Skyrim Was Generic, Says Witcher 3 Dev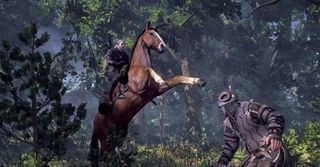 Uh oh, more mud-slinging to go around and this time it's from CD Projekt RED's Konrad Tomaszkiewicz in a recent sit-down interview with Game Informer talked about some of the big changes for The Witcher 3, including horses, bigger environments and open-worlds, giving the game the feeling of expanse.
Player Effort captured the quotes from the Game Informer video, where Tomaszkiewicz comments about the comparisons between Skyrim and Witcher, after mentioning that everyone at CD Projekt plays the game all the time...
Konrad goes on to explain how in The Witcher 2 every choice had a tangible in-game consequence and it wasn't just some canned, generic stuff. He also explains how these quests and decisions have long lasting effects on the townsfolk and the way players interact.
Tomaszkiewicz believes that Bethesda did do an excellent job of making a large, open world for exploration but failed to really engage players with any sort of emotional ties or bonds to the characters or world.
The team at CD Projekt RED is hoping to be able to marry the open-world vistas and exploration of Skyrim but with the deep character ties and emotional engagement found in The Witcher games.
The Witcher 3: Wild Hunt is scheduled to release for next-gen consoles and PC. You can learn more by visiting the Official Website.
Staff Writer at CinemaBlend.
Your Daily Blend of Entertainment News
Thank you for signing up to CinemaBlend. You will receive a verification email shortly.
There was a problem. Please refresh the page and try again.