Smash Bros. Just Added Three New Characters To The Roster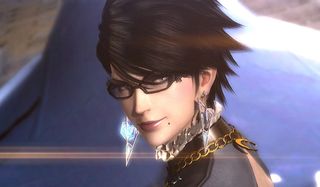 The final Smash Bros. direct from Nintendo wrapped up just a bit ago, revealing new Mii costumes and stages coming in the next several months, as well as one last batch of headlining fighters. Get ready to duke it out as Cloud from Final Fantasy VII, Corrin from Fire Emblem Fates and Bayonetta from, well, the Bayonetta games.
Smash Bros director Masahiro Sakurai this afternoon hosted the final Nintendo Direct dedicated to everybody's favorite mascot-filled brawler. It was a no-frills kind of affair, boasting comments from Sakurai and videos showing off all of the new content coming to Smash in the coming months. In other words, they got straight to the action.
First on the agenda was the brand new fighter Corrin, who stars in the upcoming Fire Emblem Fates. Players will be able to choose between a male and female version of Corrin, just like they'll be able to do in the 3DS RPG. A stance fighter, Corrin will keep your opponents on their toes by transforming parts of their body to unleash new moves.
The winner of the Smash Bros character poll hosted earlier this year, Bayonetta was also announced as a new upcoming fighter, boasting all of the gun-slinging, hair-whipping antics she's become known for over the years. This was a pretty huge surprise, even though Bayonetta 2 did launch exclusively for the Wii U. Many folks assumed a classic Nintendo character would take the final spot on the roster, but I doubt anyone is lamenting the impending arrival of the combo-heavy witch. Both Bayonetta and Corrin are planned for launch sometime next February.
While Cloud Strife was already revealed as a new Smash fighter last month, Sakurai announced today that he'll be available this very evening. Promised to be available "within hours" of the Direct, you might actually be able to get your hands on Strife as of this printing. You can add him to your copy of Smash for $5.99 on either the 3DS or Wii U, or just fork over $6.99 to unlock him on both consoles.
Both Cloud and Bayonetta come packed with their own new stages, Midgar for the former and Umbra Clock Tower for the latter, with all three main fighters also getting some new music and trophies for the game. Oh, and their all getting amiibos too, because of course they are.
Along with all of that, Sakurai also revealed the final batch of new costumes for Mii fighters, including original designs like a cyber suit, as well as licensed properties like a chocobo hat from Final Fantasy, as well as costumes for Tails and Knuckles of Sonic fame.
As an added bonus, you can actually head on over to the official Smash Bros website to scan some spiffy QR codes. These codes will present you with custom-made Mii designs that match several of the characters who have costumes available within the game.
And with that, it seems like Nintendo is officially closing the curtain on this latest version of Smash. Fingers crossed we'll see a new iteration, or perhaps an "enhanced" version of the current game, once the Nintendo NX arrives.
Nintendo isn't typically so speedy to post official videos, but they pulled a fast one on us today. You can check out the full Direct for yourself below.
Your Daily Blend of Entertainment News
Staff Writer for CinemaBlend.