Super Smash Bros. Is Adding Final Fantasy 7 Hero Cloud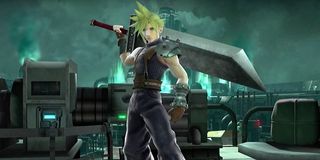 Worlds collided in a big way during yesterday's Nintendo Direct, when the publisher announced that the latest iconic character coming to its mega-brawler, Super Smash Bros., is none other than Final Fantasy VII's Cloud Strife.
In case you missed yesterday's internet meltdown, Nintendo pulled back the curtain on a major surprise, announcing that Square Enix's beloved spikey-haired hero will be making the jump to Super Smash Bros. for the 3DS and Wii U.
That trailer pretty much says it all. While there are certainly some additional Nintendo characters planned for the roster in the coming year, Cloud Strife is probably the most surprising third-party character to be added to a Smash game since, well, ever.
Having Metal Gear's Snake in the previous Smash wasn't too big of a shocker since he's appeared in quite a few Nintendo games at this point. Heck, his first two games were for the Nintendo Entertainment System.
Ryu was a nifty treat but, again, he comes from a series that got its start on a Nintendo console. Even Sonic has basically felt like a Nintendo mascot for the past decade or so.
Cloud, though, comes from a game that was exclusive to the OG PlayStation and has since made the jump to PC. This, of course, is leading folks to assume that the promised Final Fantasy VII remake might be coming to either the Wii U, NX or both.
As crazy as it is to see Cloud in Smash, though, this isn't the last big news heading to the game. Nintendo promises a Smash-focused Direct will be coming our way in December, with many saying it will be the final "news blowout" for the game. In other words, Cloud was kind of an appetizer for the rest of this year's big news. We'll likely get all of the details on remaining characters and levels coming to the game at that time, so keep your eyes peeled for those announcements here when they become available.
And perhaps the best part about yesterday's announcement: Nobody saw it coming. Ryu was leaked before he was launched during E3, which took quite a bit of fun out of his big reveal. When Cloud popped up in yesterday's Direct, Twitter and Facebook went insane. In this age of everything leaking before its official, that shared excitement was certainly a breath of fresh air.
But now the question remains: Who else is going to be announced for Smash in December? We've got a couple of suggestions, obviously, but we'd be interested to know who our readers want to see pop up in the game next.
Your Daily Blend of Entertainment News
Staff Writer for CinemaBlend.
Your Daily Blend of Entertainment News
Thank you for signing up to CinemaBlend. You will receive a verification email shortly.
There was a problem. Please refresh the page and try again.