New Sound Blaster Recon3D PCI Express Cards Now Available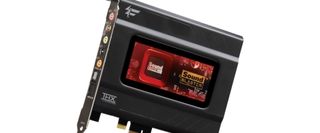 Sound Blaster announced today that their brand new, and first-ever quad-core audio and voice processor, enabling entertainment and hardcore gaming enthusiasts to experience the very best in audio quality with Recon3D PCI-E card.
The Recon3D comes in a variety of different formats and price-ranges so if you want the very best audio quality and you absolutely need a system that enables you to hear when enemies are creeping up on you in Call of Duty: Modern Warfare 3 or you need to pinpoint the location of an enemy helicopter via sound alone in Battlefield 3, then there's no need to worry about that with the Recon3D.
For gamers on a budget you can go with the standard Recon3D card for $99.99, with THX TruStudio Pro support and Crystal Voice audio technologies powering the card, along with the proprietary quad-core Core3D processor at its heart.
The next step up is the Recon3D Fatal1ty Professional edition, which features everything the standard edition has but with added I/O support, beam-forming microphone, and CrystalVoice Echo Cancellation, CrystalVoice Focus and CrystalVoice Active Noise Reduction, all for $149.99.
If you have the cash to spare and the ears to withstand the awesomeness of the pure and unadulterated rush of THX TruStudio Pro audio technologies then you'll want the Sound Blaster Recon3D Fatal1ty Champion Edition. This bad-mofo comes custom I/O mini-jacks, CrystalVoice Echo Cancellation, CrystalVoice Focus and CrystalVoice Active Noise Reduction, as well as custom software to easily and efficiently switch between multi-speaker setups. The Champion Edition also sports high-quality VOIP solutions for Skype and the latest and greatest games, so you can effectively communicate with teammates no matter what game you're playing. Of course, all these fancy features come at a price and you'll have to shell out $199.99 if you want the Recon3D Fatal1ty Champion edition.
You can pick up the Recon3D in its various formats at Amazon, Best Buy, or New Egg. For further information on the cards feel free to visit the Official Website.
Staff Writer at CinemaBlend.
Your Daily Blend of Entertainment News
Thank you for signing up to CinemaBlend. You will receive a verification email shortly.
There was a problem. Please refresh the page and try again.