Star Wars: The Force Unleashed System Requirements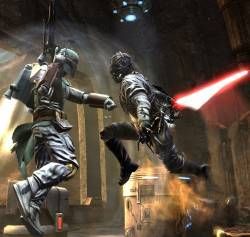 Star Wars: The Force Unleashed - Ultimate Sith Edition makes its PC debut next month. Does your system have a sufficient midichlorian count to run the game, though?
Minimal system requirements
Operating system: Windows XP SP3, Windows Vista SP2, Windows 7
CPU: Dual-core CPU with 2.4 GHz (Intel core 2 Duo or Athlon X2)
RAM: 2 GiByte
Graphics card: Shader model 3 with 256 MiByte VRAM (Radeon HD 2900 or Geforce 8800)
HDD: 24 GByte + 1 GByte swap file
Recommended system requirements
CPU: Intel core 2 Duo 2.8 GHz or AMD Athlon X2 5200+
Graphics card: Radeon HD 4870 or Geforce 9800 GT
Supported graphics cards
Ati Radeon HD 2900, 3850, 3870, 4850, 4870
Nvidia Geforce 8800, 9600, 9800, 260, 280
Ultimate Sith Edition includes the standard Force Unleashed game released on consoles last year, as well as three additional missions. The missions let you fight Boba Fett, Obi-Wan, and even Luke Skywalker. It's set to be released in North America on November 3rd.
Your Daily Blend of Entertainment News
Staff Writer at CinemaBlend.