Star Wars: The Old Republic Pre-Order Customers Will Get Grace Period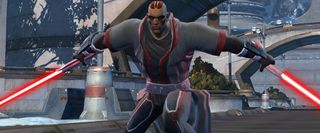 Some Star Wars: The Old Republic pre-order customers were worried that they might not get their copy of the MMO on time and would get cut off after the early access period concludes. However, BioWare is taking steps to prevent that from happening.
"We've heard you want a 'grace period' where you can continue to play without having to enter a final product registration code (AKA 'game code')," BioWare co-founder Gregory P. Zeschuk said on the SW:TOR forums today. "We've been listening, and after doing another deep review of our platform infrastructure, we're taking action. Today, we're announcing a two day grace period for Star Wars: The Old Republic customers."
If you've pre-ordered and played the early access period, you'll have 48 hours after the game's launch to redeem your product code. The code can be found in the package of your Standard or Collector's Edition. You'll need a product code and valid payment method registered on your game account to keep playing after December 22nd at 12:01AM EST. Also, in case you're wondering, the 30 days of free game time included with your purchase of any version of the game won't start until you redeem your product code.
Old Republic's early access began on December 13th. BioWare has been inviting players into early access based on how early they pre-ordered. The game formally launches on December 20th.
Staff Writer at CinemaBlend.
Your Daily Blend of Entertainment News
Thank you for signing up to CinemaBlend. You will receive a verification email shortly.
There was a problem. Please refresh the page and try again.