StarCraft 2: Heart Of The Swarm Demo Playable At June MLG Event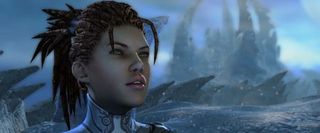 Blizzard won't be holding a BlizzCon this year but StarCraft 2 players will still have a reason to head to the Anaheim Convention Center this summer. Heart of the Swarm, the first expansion pack to SC2, will be playable at Major League Gaming's Pro Circuit Spring Championship event in June.
The event will have a number of Heart of the Swarm demo stations that will let players try out the latest multiplayer build. The press release mentions that this public showing will occur before the Swarm beta goes live.
The MLG Spring Championship seems like an appropriate place to show off Heart of the Swarm. Professional SC2 players from around the world will be competing for $76,000 during the Championship. Blizzard will be conducting the USA national finals for their own SC2 World Championship Series as well. The winners of Blizzard's event are competing for $30,000 in prize money and a chance to proceed to the North American continental finals.
The MLG Pro Circuit Spring Championship will be held from June 8th to 10th at the Anaheim Convention Center in Anaheim, California. You can purchase a $35 Spectator Pass for the whole weekend here. I imagine these passes will start to sell quickly now that the Swarm demo has been announced, so grab 'em quickly.
Heart of the Swarm, one of two expansions planned for SC2, could be released by the end of the year. The development crunch necessary to complete Diablo 3, World of Warcraft: Mists of Pandaria and Heart of the Swarm is why Blizzard decided to cancel BlizzCon 2012.
Your Daily Blend of Entertainment News
Staff Writer at CinemaBlend.
Your Daily Blend of Entertainment News
Thank you for signing up to CinemaBlend. You will receive a verification email shortly.
There was a problem. Please refresh the page and try again.