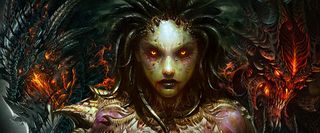 Blizzard fans will have to find another place to party this fall. Today Blizzard announced that they won't be holding a BlizzCon in 2012. It seems that they're too busy trying to finish up their upcoming games.
The news about BlizzCon was tucked into an announcement about the 2012 Battle.net World Championship. The eSports event, featuring World of Warcraft Arena and StarCraft II tournaments, will be held in Asia in late 2012.
"We're excited to be showcasing Blizzard eSports on a truly global stage this year. We're also heavily focused on getting Diablo III, [World of Warcraft expansion] Mists of Pandaria, and [Starcraft II expansion] Heart of the Swarm into players' hands as soon as possible. In light of our jam-packed schedule, we've decided to hold the next BlizzCon in 2013."
BlizzCon is a convention devoted to all things related to Diablo, StarCraft, and Warcraft. Each convention generally features presentations by Blizzard employees, tournaments, contests, and hands-on time with upcoming games. Blizzard has held a BlizzCon almost every year since 2005. The only other exception was 2006.
Blizzard's dance card for this year is quite full. Diablo III is expected early this year, but Blizzard has yet to announce a release date. World of Warcraft received patch 4.3, the last major content update before Mists of Pandaria] in December of last year so no doubt they'd like to get Pandaria out before the end of 2012 in order to retain subscribers. StarCraft II, meanwhile, will turn two years old this summer so there's some pressure to finally release its first expansion.
"Yeah it's a bit disappointing because we all really do enjoy being able to 'open the doors' so to speak," said community manager 'Bashiok' on the Battle.net forums. "But, it is an enormous effort by all employees, including our game designers and artists, not to mention customer support and quality assurance, PR, our business departments, and *hot breath on fingernails & shirt rub* Community & eSports to make a BlizzCon happen."
"In a year when we're working to release multiple titles (knock on wood) it makes sense to focus our efforts. Also with multiple game releases we just wonder if we'd be at a point with any of them where we'd have anything really big or new or cool to talk about."
Blizzard also has at least three other projects occupying their time. They're creating a strategy game called Blizzard DOTA as well as a new MMO codenamed "Titan." StarCraft II is also slated to receive a second expansion called Legacy of the Void.
Your Daily Blend of Entertainment News
Staff Writer at CinemaBlend.