StarCraft II: Wings of Liberty Collector's Edition Announced, Standard Edition Is $60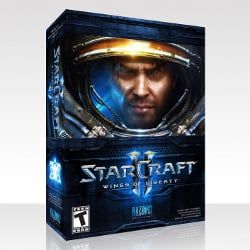 Blizzard revealed today that StarCraft II: Wings of Liberty will be getting its own fancy pants Collector's Edition. They've also revealed that the Standard Edition will be priced higher than usual.
SC2's Standard Edition will be $60, ten bucks more than standard PC releases. If you recall, Activision priced the PC version of Modern Warfare 2 similarly. It's a tactic that won't endear them to PC gamers but honestly, it's not like they're going to boycott this game over it. PS3 and Xbox 360 owners have had to shell out $60 per game for years now so it was only a matter of time before that price bump spread to the PC market as well.
The Collector's Edition, meanwhile, is $100 and comes with the following extras:
The Art of StarCraft II: Wings of Liberty, a 176-page book featuring artwork from the game
An exclusive 2GB USB flash drive replica of Jim Raynor's dog tag, which comes preloaded with the original StarCraft and the StarCraft: Brood War(R) expansion set
A behind-the-scenes DVD containing over an hour of developer interviews, cinematics with director's commentary, and more
The official StarCraft II: Wings of Liberty soundtrack CD, containing 14 epic tracks from the game along with exclusive bonus tracks
StarCraft comic book issue #0, a prequel to the comic series
A World of Warcraft(R) mini Thor in-game pet that can be applied to all World of Warcraft characters on a single Battle.net account
Exclusive Battle.net downloadable content, including special portraits for your Battle.net profile, decals to customize your units in-game, and a visually unique version of the terran Thor unit
Wings is the first installment in a planned SC2 trilogy. It comes with a single-player campaign for the Terran faction as well as the full multiplayer component. The two later releases will add the Zerg and Protoss campaigns.
According to today's announcement by Blizzard, the release date for Wings will be revealed in the "coming weeks." Box art for the Standard and Collector's Editions can be found below.
Image 1 of 2
Your Daily Blend of Entertainment News
Staff Writer at CinemaBlend.