Stardock CEO, League of Legends Devs, Others Support #GamerGate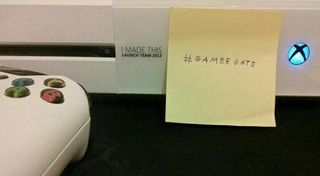 Small batches of developers from various studios are coming forward to pledge their support for the #GamerGate movement. These game-makers feel as if the industry needs a desperate change and have spoken up.
Brad Wardell, the CEO of Stardock Entertainment, a company known for games such as Sins of a Solar Empire and Galactic Civilization, has openly come out in support of the #GamerGate movement, writing some eye-opening words about how "toxic" the games media circuit has become: blog...
He felt that the gaming media portrayed him as one of these villains after he was sued for sexual harassment by a former employee. The case was later dismissed.
Wardell just recently made a post titled "#GamerGate – The Free Ride is Over", making it known that...
Both sides have managed to spew some hateful things, but most major media outlets only focus on the abuse that anti-#GamerGate individuals encounter. A website called GamerGateHarassment chronicles the abuse that also comes from those supposedly championing "inclusion" by promoting the "death" of the gamer identity.
An independent developer named Devi Ever made also stepped forward, making a 25-minute long video explaining some of the hurdles of dealing with cliques in the games media, saying...
Devi also released an image of the e-mail exchange here.
It's not just the smaller developers stepping forward. Supposedly, a member of the original Xbox One design team posted anonymously on 4chan, using a photo of the white Xbox One that Microsoft sent out to the 2013 launch team as proof – stating the following...
Of course, is it possible someone purchased a near $3,000 Xbox One unit from eBay and then posted the #GamerGate post-it in the photo to boost morale? It's possible, but that's a very expensive way to troll.
Purportedly, a Ubisoft employee also stepped forward, posting an image of a medallion with the Ubisoft logo and their name on it... of course, the name was blocked out so no one would know their identity. They posted in a 4chan thread, which is still one of the only few places where uncensored discussion can take place about #GamerGate ...
Funnily enough, the supposed developer received a lot of disheartened flack from gamers in the thread because gamers felt as if the gaming community is losing the battle, and morale is dropping due to the larger media outlets not properly conveying what's really going on surrounding the #GamerGate controversy, painting the movement mostly as one designed to harass women. Many of the gamers are desperately pleading for developers to step forward and help them support #GamerGate in the open.
Additionally, a Riot Games employee also came forward to support #GamerGate, using a work-ID tag with the name blacked out. The League of Legends developer posted a photo of the badge with the following message...
The sentiment above about not being able to have those conversations has been reiterated twice before during the #GamerGate debacle by other developers; developers who fear that if something isn't done to curb the kind of censorship and attacks being utilized from the games media platform, certain games may not ever have a chance to exist.
In an interview with TechRaptor, a developer from a post-Soviet Union country talked about this very thing, saying...
The independent developer was once a journalist working under oppressive conditions where he once lived; the kind of conditions where writing the wrong thing could make you disappear for good. He mentions that it would be a shame for the games industry to follow suit under social agendas that would continue to hamper creative expression because it doesn't fit within a specific, sociopolitical narrative, saying...
Daniel Vavra, the writer and designer for Mafia and Mafia II currently working at Warhorse Studios on Kingdom Come: Deliverance, also spoke out on behalf of #GamerGate. Vavra reiterated what the other developer mentioned about the demarcations being imposed on artistic freedom, saying...
#GamerGate is the result of a brewing basket of explosive emotions from gamers and developers alike, built up over the past couple of years. A lot of people simply want to go back to the days when games were made, reviewers gave scores and gamers bought and played what seemed decent enough for the money they paid for it. Vavra held nothing back regarding how he felt the major media outlets have mostly ignored many of the other aspects of the #GamerGate movement, instead focusing solely on harassment and misogyny, saying...
Many large sites have responded to #GamerGate's ethical concerns by updating their rules for employees. Sites under Defy Media have altered their ethics policies. Destructoid, Polygon and Kotaku have done so as well.
Your Daily Blend of Entertainment News
Staff Writer at CinemaBlend.
Your Daily Blend of Entertainment News
Thank you for signing up to CinemaBlend. You will receive a verification email shortly.
There was a problem. Please refresh the page and try again.