Street Fighter V Producer Explains Ken's New Look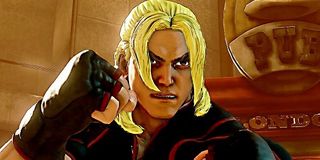 You may have noticed that U.S. brawler Ken has received a slight makeover for upcoming PlayStation 4 and PC fighter, Street Fighter V. It turns out some folks aren't too happy with those changes, but producer Yoshinori Ono says they were made for good reason.
A recent interview between French website Gameblog and Ono reveals some new details about Capcom's upcoming fighter, Street Fighter V, with a helpful redditor going on to translate the details for member of the English-speaking crowd.
First up, here's a refresher of Ken's reveal trailer for Street Fighter V, showing off his new hairstyle and outfit. He also looks a bit more angry than in past games, leading me to wonder if his life has taken a turn toward the dark side.
Personally, I couldn't be happier with the changes that have been made to Ken. I dig the hairstyle, despite the fact that some apparently think his bangs look like a banana. The outfit is also pretty rad, and certainly helps to further distinguish him from long-time counterpart, Ryu.
But if you make such big changes to a character that has been around for about 20 years, it should come as no surprise that some members of the fan base are going to be upset. Ono was asked about those negative reactions to Ken's makeover and said that all will be explained when the game finally launches in 2016.
My favorite part of that comment is that Ono refers to a story mode that they will "be announcing eventually." Nope, you just announced it. It shouldn't really come as a surprise that Street Fighter V will have a story mode, but maybe this is Ono's way of saying that it will, perhaps, tell a more interesting tale this time around. If the story explains why Ken has gone through some changes and thus evolved ever-so-slightly, it's already got a leg up on most fighting game campaigns.
Honestly, this is the first I'm hearing about Street Fighter fans hating on Ken's new look. I'd certainly be interested in hearing what our readers think of the shift in duds and hairstyle. Were you instantly upset by the changes or do you think it's a good look for the fighter? Let us know in the comments below.
Staff Writer for CinemaBlend.
Your Daily Blend of Entertainment News
Thank you for signing up to CinemaBlend. You will receive a verification email shortly.
There was a problem. Please refresh the page and try again.