Street Fighter 5's New Brazilian Fighter Laura Revealed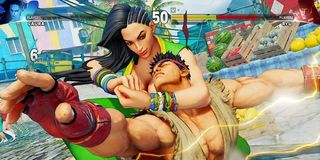 It looks like a new member is being added to the Street Fighter V roster, a bright and colorful brawler by the name of Laura.
The images for this article are courtesy of weekly Japanese publication Famitsu, where Laura was first revealed.
It's thought that this might be something of a publishing boo-boo, as all information pertaining to Laura has since been removed. That wouldn't be too surprising, since Capcom revealed that Zangief would be returning for Street Fighter V during the same 24-hour period. It would be a bit unorthodox if the developer announced two new characters in one day so, for now, I suppose we can only chalk up these very authentic-looking and almost certainly legit images to "rumor." We pretty much expect a proper reveal and an introduction trailer sometime in the near future but, for now, enjoy the still images.
We're not going to get into a debate over whether or not the above image appears to be following Capcom's recent trend of making the Street Fighter female cast appear hyper-sexualized. That Chun Li breast jiggle fiasco was apparently a glitch, after all.
Instead, we're going to focus on the positives, specifically how much of a breath of fresh air Laura is. Only seen in a couple of images, she appears to boast far more color and spirit that much of the Street Fighter cast, and I'm willing to bet she'll have a fighting style to go along with it. I always enjoy a fighting game character who looks to be having fun while beating the crap out of their opponents, and it looks like Laura will fit that bill nicely.
Based on the buzz around the internet, it appears that Laura is Brazilian and has lightning-based attacks. That would make her fall in line nicely with fellow Brazilian, Blanka, though Laura isn't nearly as hairy and, you know, green. Her outfit is green, though, which coupled with the lightning attacks is starting to make us wonder if there's some sort of connection between the two. Blanka found his long-lost mom at the end of Street Fighter II, so maybe he had a kid sister we never knew about?
My Street Fighter fan fiction aside, what are your thoughts on Laura, assuming she does (and almost certainly will) get added to the SFV roster? It's always nice to see another female fighter, especially one that appears to distinguish herself from the rest of the cast. Speaking of which, who would be your dream cast addition? What would they look like and what would their fighting style be? Let us know in the comments below.
Staff Writer for CinemaBlend.
Your Daily Blend of Entertainment News
Thank you for signing up to CinemaBlend. You will receive a verification email shortly.
There was a problem. Please refresh the page and try again.