Super Mario Bros Is On Xbox One Thanks To Project Spark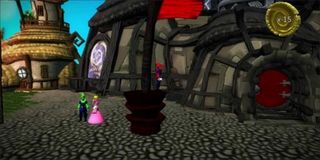 If you've been longing for a good platformer on the Xbox One, you probably thought it would come in the form of a multi-platform title from a company who actually cares about such a genre. The one thing you probably didn't expect was that you could get all the thrills and frills of Super Mario Bros from the confines of something a little less conventional, like Project Spark.
Creative users have spent a good deal of time figuring out, understanding and utilizing the powerful creation tools laid upon them by the talented skills of developer Team Dakota.
As witnessed in the video below, you can see a fully playable and mostly functional recreation of Nintendo's beloved Super Mario, right there in the confines of Project Spark... on your Xbox One.
The video above was labeled as highly annoying and terribly frustrating by the dislikes on the YouTube page. Comments weren't enough to display the displeasure of some gamers having to sit through that trash.
On the upside, you can easily see that the fake Super Mario Bros. game is very playable through Project Spark. If the above video gave you too little to see and enjoy in regards to what the concept actually entails, fear not, for a more feckful John Tolar recorded his rendition of Super Mario Bros. The video below shows more than three weeks worth of work, as Tolar aimed to make something true to the spirit of the Mario franchise. Check it out.
If you had your doubts about Project Spark before, you can readily see that it's definitely the dark horse of the Xbox One's software line-up.
It still has a long ways to go but some of these projects are showing a lot of promise, especially Linkin Park's collaboration with Project Spark in a playable, interactive music game, "Guilty All The Same". If you haven't already, be sure to check it out below.
Project Spark is still currently in beta for PC and Xbox One, but it's certainly showing the kind of promise that the Xbox One desperately needs to become a prime-time player in this eighth-generation console race. The inclusion of Kinect for animations and body capture is also top-notch and hopefully we'll see some more artistic and interesting projects coming out of Team Dakota's free-to-play software.
You can learn more by paying a kind visit to the official Project Spark website.
Your Daily Blend of Entertainment News
Staff Writer at CinemaBlend.