THQ To Showcase New Voltron Game At Comic-Con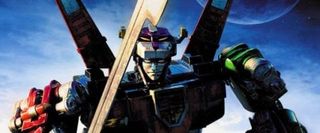 Fans of the former pop-culture phenomenon known as Voltron: Defender of the Universe will be pleased to know that with the success of the new television cartoon that THQ is also working on a brand new game.
As stated in the press notice…
So, what can you expect from the game? I have no idea. Will it be a real game or a sub-game? I can't answer that because I don't know. More than anything, though, it does open up a floodgate of questions regarding what kind of game Voltron will be: is this going to be a mobile title for iOS platforms or the 3DS? Will it be a multiplatform action game or a tame TV-based title?
Unfortunately, questions are all we're left with until THQ decides to release more details on the title. Luckily, we'll only have to wait until the upcoming Comic-Con to learn more about the game…which will be for better or for worse.
I would direct you to an official website for the game but there isn't one yet. So the next big thing is to check out the official Voltron: Defender of the Universe intro below. Yeah!
Staff Writer at CinemaBlend.
Your Daily Blend of Entertainment News
Thank you for signing up to CinemaBlend. You will receive a verification email shortly.
There was a problem. Please refresh the page and try again.