Tango with Borderlands 2 Characters In Dance Central Spotlight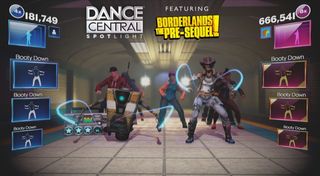 Two new characters have joined the Xbox One dancing game, Dance Central Spotlight. Who are the two new characters? None other than Nisha the Lawbringer and Claptrap, both of whom are playable in Borderlands: The Pre-Sequel and have made numerous appearances throughout the series.
The news came in from a tweet made by the official Dance Central Twitter account, where they reveal that the two characters can be accessed with a secret code, posting...
Some old-school button pressing to access characters? I love it. Even a few gamers dropped in some comments responding to the tweets about how cool it is to have classic cheat codes available. Pressing a few buttons at the character select screen ('X' or 'Y' five times) to unlock the Borderlands: The Pre-Sequel characters is pretty sleek. A nice Easter egg of sorts for gamers.
As noted in an article on Polygon, Jessa Brezinski from Harmonix commented about Claptrap being in the game, saying...
And by that, you the player will have to put in the work effort to make it all click given that Claptrap has no legs whatsoever.
Harmonix PR Nick Chester in a private message with Gearbox Software's Mikey Neumann, one of the writers for the Borderlands game, commented about Claptrap saying...
And now I'm kind of tempted to see what that looks like.
Claptrap is one of the key figures throughout the Borderlands franchise, originally introduced as an annoying little quest-giver throughout the early parts of the first game, but eventually evolving into part of the story itself with the Claptrap's New Robot Revolution DLC, and finally becoming a playable character in Borderlands: The Pre-Sequel.
Nisha The Lawbringer is also a playable character in Borderlands: The Pre-Sequel but was more of a boss character in Borderlands 2. It's interesting seeing these kind of crossovers happening with dancing games and first-person shooters. Then again, this shouldn't come as too much of a surprise to anyone given that there was that Star Wars: Kinect game a couple of years ago where Boba Fett and Han Solo were getting down and dirty on the dance floor and it had Star Wars fans face-palming hard enough to give them a concussion and Kinect owners cringing at the content. It was an epic win for everyone.
To be fair, though, Dance Central has generally been seen as a high quality title for the Xbox systems and having fun characters added in from another franchise can help breathe a bit of fresh new life into the series.
You can give the Nisha and Claptrap code a test right now if you already own Dance Central Spotlight for the Xbox One. You can also learn more about the game by paying a visit to the official website.
Your Daily Blend of Entertainment News
Staff Writer at CinemaBlend.