Team Fortress 2 Swissmas Update Adds Grappling Hooks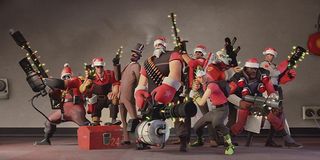 The holidays are officially upon us and Valve is celebrating in a big way with "Swissmas" gifts in Team Fortress 2 that include a grappling hook. Yep, a grappling hook. Who said Heavy Claus doesn't actually read those Swissmas lists?
Announced through the Team Fortress blog, Swissmas is a time of celebration, coming together with friends, then pwning them in open combat. Along with some playful ribbing of the DOTA2 and Counter-strike: Global Offensive folks, this special holiday announcement is full of details on a brand new game mode for Team Fortress 2, as well as additional goodies like festive weapons and a whole bunch of new cosmetic items.
One of the most exciting additions, though, is the new grappling hook, initially available in the new Manpower game mode, as well as servers that choose to enable it. The grappling hook works exactly like you would expect it to. Simply point yourself at an object, fire the hook, and launch yourself toward whatever you're tethered to. Use it to get around more quickly or reach higher platforms in a snap.
While Team Fortress 2 didn't invent the arena shooter genre, it certainly codified it as a major player in the world of video games. Games like Loadout and even the more recent Secret Ponchos have at least a little bit in common with the gameplay and systems established by TF2. And then there's Blizzard's recently announced Overwatch, which seems to be utterly gushing with similar DNA.
The Swissmas update should help keep Team Fortress 2 fans happy through the holidays, complete with a bunch of new content just waiting to be enjoyed.
"We've also made a change to MvM loot drops," reads the announcement. "Specifically, in addition to the usual Botkiller drops, there's now a chance to get Australium weapons (including the incredibly rare Golden Frying Pan) to all advanced and expert MvM tours. The tours affected by this loot drop change are Steel Trap, Mecha Engine and Gear Grinder."
That's all well and good, but what about the sweet loot? Apparently anyone who logs in for a limited time will receive a stocking stuffed full of in-game tidbits. There's also another bundle of winter-themed clothing items, some festive weapon skins, Naughty and Nice crates of goodies and brand new weapons to unleash on the masses.
The iron bomber tosses projectiles with little bounce, so you can drop explosives right on top of an enemy and be sure that's where they're going to explode. The Quickbomb launcher tosses and actually nullified enemy sticky bombs. Finally, there's the Panic Attack, a barrel-loaded shotgun with a four-shot charge.
Merry Swissmas, indeed.
Your Daily Blend of Entertainment News
Staff Writer for CinemaBlend.