Team Soho Hiring For Big-Budget PS3 Exclusive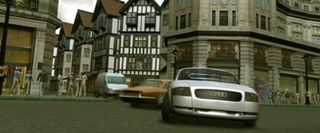 A brand new IP is in the works from the people that brought us the ground breaking open-world crime drama, The Getaway. While gamers have desperately been awaiting a third game in the well-designed and expertly written Getaway series, it appears Team Soho is being a bit more ambitious with their time and investing it in a brand new IP.
According to a job listing found by SilleGamer, Sony Computer Entertainment's London Studio is looking to hire for a "visually ambitious" triple-A title. They're looking to hire in an art director as well as a lead or senior visual FX artist. According to the job listing, it states that…
Sounds like a hefty task. SilleGamer speculates that they're just hiring in new replacements to potentially continue work on the "on hold" new IP known as Eight Days. A superficial reason for the cancellation was supposedly due to the game's lack of multiplayer, however no official statement was ever given about that particular issue.
It would make sense if it's not actually a new game but simply the continued development of Eight Days. The game looked like it was in a playable condition and just recently there was some extra footage of the game that surfaced spurring a domino effect of speculation regarding a possible announcement about the game's status. Until official word comes from either the developers or the publisher, for now we'll just have to rest easy knowing that Team Soho is at least putting their talent to work and looking to expand it as well.
Your Daily Blend of Entertainment News
Staff Writer at CinemaBlend.