Thomas Was Alone Finds New Friends On iOS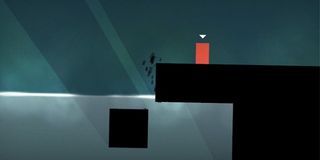 You can learn a lot from a bunch of geometric shapes. Those who have played indie developer Mike Bithell's Thomas Was Alone for the PC, PlayStation Vita and PlayStation 3 are well aware of that fact. But now, with the help of Bossa Studios, iPad and Mac gamers will get to learn that lesson for themselves, as the game ships for iOS today.
Thomas Was Alone is a unique creature of a game, featuring a collection of squares and rectangles who must work together in order to solve puzzles and traverse tricky levels. Each shape, if you can believe it, has a personality all their own and your entire adventure is narrated in real time. It's one of those games you kind of need to see to really get, which is where the magic of trailers comes in.
As for what players can expect out of this latest version of the game, a statement from Bossa Studios touts "gentle geometric adventures of a group of quirky quadrilaterals to a whole new audience of players, with the controls lovingly re-designed to provide a fully optimized touchscreen experience." So it's basically the same game with all of that touchy-feely iOS control jibba-jabba plugged in, but that's A-OK in my book.
"With its minimalist, old-school aesthetic, Thomas Was Alone encourages players to invest themselves in an emotional experience, inviting them on a journey filled with heroes, villains, master-minds and lovers," reads the statement from Bossa. Hard to believe all of that is coming out of a game that looks like this but, as old-hands at TWA will tell you, it's 100 percent accurate. Helping the story along is the vocal works of BAFTA-award winner Danny Wallace, along with a lovely bit of soundtrack composed by David Housden.
The game was also nominated for a BAFTA in music and story so, again, that's some pretty surprising accolades from a game that looks like, at first glance, a bunch of rectangles moving around the screen. Even the game's creator, Mike Bithell, was a bit shocked by the game's reception.
"I'm honestly still a bit surprised that Thomas Was Alone has found the audience and critical reception it has," he said. "I'm really happy to be releasing a solid version of the game on iPad with the help of the talented folks at Bossa Studios."
Bossa's co-founder, Imre Jele, couldn't agree more.
"Thomas Was Alone genuinely feels more personal and intimate on a touch-screen device," Jele said. "There's now an instant connection between you and the lovingly crafted characters of Mike's powerful narrative."
To feel that connection for yourself, you can grab Thomas Was Alone from iTunes for $8.99.
Staff Writer for CinemaBlend.
Your Daily Blend of Entertainment News
Thank you for signing up to CinemaBlend. You will receive a verification email shortly.
There was a problem. Please refresh the page and try again.