Timesplitters Rewind WIP Screenshots Reveal Two Characters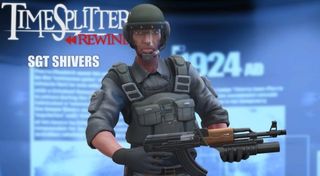 It may have seemed like it hit a snag after the Crytek ordeal, but the Timesplitters Rewind project is still moving forward and the team made a show of progress by releasing two screenshots of characters currently being worked on.
Powerup Gaming caught wind of the new screenshots for the characters from the official Facebook page for Timesplitters Rewind. The two characters made available for public viewing via two brand new screenshots.
The characters are Pvt. Poorly and Sgt. Shivers. Two slightly lesser known faces amongst the shooter's illustrious list of wacky and unique faces. You can check out the images of the two characters below.
According to Powerup Gaming the two bullet-sponges come from Timesplitters 2 and have remade and remodeled for use in the upcoming community project, Timesplitters Rewind.
Originally, the project came about following a community movement to get Crytek – the owners of the IP at the time – to make a Timesplitters 4. A Facebook page was made for the project and gamers were encouraged to go and like the page. If the community page received enough support, Crytek would consider making a new title in the franchise.
However, they came up just shy of 100,000 likes, but the grassroots campaign was so popular that a few of the developers who worked on previous Timesplitters titles still contributed a bit of their support to the cause. Following this, it was decided to make a new game from scratch using the CryEngine 3, and done with the voluntary help from people who worked on past games in the series.
The new game would be called Timesplitters Rewind and it would be designed for PC, PS4 and maybe the Xbox One. The project gained quite a bit of attention last year.
Given that it's a community project, the game was only going to be designed to be given away as freeware since Crytek still owned the license. Due to all the attention the project received, Crytek continued to give the project their blessing and hinted at potentially doing more to help support it should it warrant their services.
However, in the past year Crytek fell upon some hard times. The company has had a difficult time in staying profitable and ended up having to close down some studios.
While Crytek's dire financial situation left the Timesplitters Rewind project in a bit of limbo, it turns out that they were still moving forward with the project. And here we are today. They're still producing assets and slowly prepping to get the game out there. You can contribute to the project or learn more about it by paying a visit to the official website.
Staff Writer at CinemaBlend.
Your Daily Blend of Entertainment News
Thank you for signing up to CinemaBlend. You will receive a verification email shortly.
There was a problem. Please refresh the page and try again.