Titanfall Beta Registration Is Live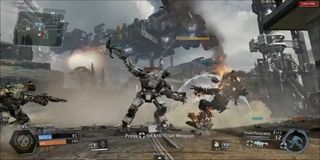 The beta sign-ups for Titanfall are now live. It's as simple as that. The servers are pretty much overloaded but you'll probably want to hurry and try to sign-up anyway, because space is limited and not everyone is guaranteed to get in.
As noted on DSO Gaming, the beta for Titanfall will get underway at the end of the week on February 14th, more than likely to coincide with the planned Xbox One patch set to roll out at the end of the week.
The beta will contain two playable maps and three playable game modes, one of which is stated to include a Last Titan Standing mode. Sounds intriguing.
To help get gamers in the mood, EA released a new promotional trailer for Titanfall, aimed to help get gamers amped like every other AAA game before it. Check it out below.
That part where the titan poses before throwing the pilot from the opposing titan is freaking sweet.
I'm curious what the ratio will be between gamers signing up to play the game on PC compared to gamers signing up to play on the Xbox One.
Unfortunately, there is no option on the sign-up site to partake in the beta for the Xbox 360, but that's likely because a separate development team is handling the 360 port. And yes, the game is being ported to the 360... Microsoft's age-old soldier is no longer the lead.
Despite some resolution discrepancies, a lot of gamers are still very much looking forward to Titanfall as a big AAA title to help finish off the launch window of games for the eighth generation consoles.
EA is going all-in on Titanfall because they desperately need a big hit on the game after miscalculating which console was going to be the big seller. Still, they might be able to make up for it with the Titanfall themed merchandise, including a very sexy Xbox One controller.
It's now a big gamble on EA's end as to whether or not they deliver from a gimped position. That brand exclusivity cost them and it could have cost them big, but we'll see how the sales roll out when March lands heavy, like a ton of bricks.
But you came for the sign-up page for the Titanfall beta and the sign-up page is what I'm here to deliver. Behold... the sign-up page link: http://www.titanfall.com/beta
Your Daily Blend of Entertainment News
Staff Writer at CinemaBlend.