Titanfall Burn Cards List And Images Revealed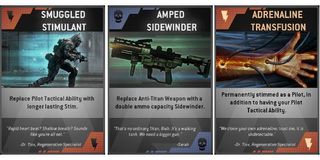 Titanfall players can earn 50 "burn cards" during battle. Beta testers have cobbled together a full list along with an image gallery.
Burn cards are collectibles randomly earned through gameplay. You're able to use them whenever you die to get a temporary edge in battle. For example, Fast Learner doubles the XP you're earning while Double Agent makes enemy A.I. ignore you. A few examples are in the slideshow below.
They're an interesting twist on the killstreaks/deathstreaks rewards from Call of Duty. Like those streaks, burn cards can help a good player dominate or a bad player bounce back. However, their bonuses usually only last for one spawn. Plus, burn cards can only be used once and you can only equip three per match. They're not as prone to overkill as COD' killstreaks.
Here's the list of 50 cards compiled by Reddit. Six cards are in parentheses because they haven't been confirmed with images yet.
Bottomless Frags
Shock Rocks
(Amped Arc Mine?)
(Amped Satchel Charge?)
Amped RE-45
Amped P2011
(Amped B3 Wingman?)
Amped Smart Pistol
(Amped C.A.R. SMG?)
Amped R97
Amped EVA-8
Amped R-101C
(Amped Hemlok BF-R?)
(Amped G2A4?)
Amped LMG
Amped DMR
Amped Kraber
Amped Sidewinder
Amped Archer
Amped Mag Launcher
Amped Charge Rifle
Active Camo
Ghost Squad (Rare)
Prosthetic Legs
Smuggled Stimulant
Adrenaline Transfusion (Rare)
Spider Sense
Packet Sniffer
Aural Implant
Echo Vision (Rare)
Satellite Uplink
Map Hack (Rare)
Double Agent
Conscription
WiFi Virus
Massive Payload
Rematch
Super Charger
Spectre Camo (Rare)
Decisive Action
Pull Rank
Outsource
Fast Learner
Thin The Ranks
Urban Renewal
Most Wanted List
Titan Salvage
Atlas Refurb (Rare)
Reserve Ogre (Rare)
Spare Stryder (Rare)
You can see images of 44 of the cards in this imgur gallery. Each image includes full description of the bonus that card provides.
Titanfall is currently in open beta on Xbox One and PC. Respawn plans to wrap up the test later today in preparation for the game's March launch date.
Image 1 of 6
Your Daily Blend of Entertainment News
Staff Writer at CinemaBlend.