Titanfall Xbox One Beta Now Open To Everyone, PC Open Beta Inbound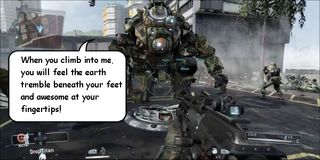 Major "Flip Switcher" Nelson took to his website to confirm that the beta for Titanfall is now open to everyone. This was followed by Respawn's CEO Vince Zampella confirming that the PC version will also go open beta as well.
Nelson confirmed that the beta would be open to all and anyone could download the beta on the Xbox One to test out the game and see if it's to their liking, writing...
Simply head to the games section and look for new demo titles and you'll see the Titanfall beta right there. Click to install it and just wait out those precious moments as the multi-gigabyte game downloads.
If, however, you're one of those gamers who couldn't give a rat's crusty pellet about the Xbox One and you didn't bother putting down $500 for a system that's main focus is on watching TV on your TV, you might want to take a sigh of relief knowing that you can still experience Titanfall... on your PC.
According to Polygon, they took note of tweets from Respawn's CEO Vince Zampella, who stated that...
Major Nelson definitely knows a thing or two about flipping switches.
Anyway, the only thing they warn you about is finding games during peak times. Opening up the servers to little Jimmy, little Jimmy's cousin, his brother, his nephew his parents told him to never talk about, and his older sister's boyfriend from prison that Jimmy's dad shared a cell with briefly during his experimental years, means that it's going to be one crowded Sunday afternoon on the Titanfall beta servers.
If you're curious how the beta plays or whether or not the game suits your tastes, you can check out Gaming Blend's own first-hand impressions courtesy of Katy Goodman.
Titanfall is Respawn Entertainment and (mostly EA's) way of trying to help the Xbox One avoid getting into a sales slump and moving major units throughout the spring quarter. In other words, Microsoft needs Titanfall to be their Gears of War for the Xbox One. Whether or not it'll hit that mark (on the Xbox One) remains to be seen. But the game is set to drop for PC and XB1 on March 11th, followed a week later by the Xbox 360 version.
Staff Writer at CinemaBlend.