Titanfall Download Won't Be Available Before Release Date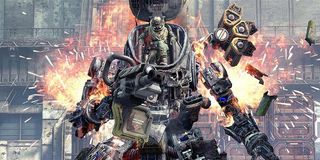 If you're buying Titanfall digitally, you won't be able to preload the files. Microsoft says that the game won't be available for download before its launch next month.
The official Xbox.com listing for Titanfall (opens in new tab) said that gamers who pre-purchased the game would be able to download the files before the game's release date. The game would then be activated at 12:01 AM PST on launch day. However, hours after this listing was spotted, Microsoft said that it was an error.
"We believe in digital distribution, and are proud to give gamers a variety of ways to purchase and experience their games," Microsoft said in a statement to Polygon. "However, pre-purchase and pre-download for Titanfall for Xbox One will not be available from Xbox Store. We'll continue to strike a balance between digital distribution and its benefits, while supporting physical games purchase through our retail partners."
Vince Zampella, the co-founder of Respawn Entertainment, clarified on Twitter that preloading won't be available on Xbox 360 or PC either.
It's too bad that Respawn won't allow for preloading, as it's going to be a sizable download. The beta client was over 12GB on the PC, so the full version's no doubt much larger. Trying to download the full game while millions of players are doing the same doesn't sound appealing.
As Microsoft said in their statement, though, they want to accommodate physical retailers, though. I imagine major retailers such as GameStop and Best Buy will be opening at midnight to sell Titanfall at launch. If the digital purchase was too convenient, gamers wouldn't bother heading out to stores in the middle of the night.
Like John Carmack, I think that we're heading toward a digital-only future. We're not there yet, though. Brick-and-mortar retailers are still a formidable force and publishers are going to cater to their interests - even if it makes things less convenient for gamers that prefer digital distribution.
Titanfall's beta wrapped up earlier this week. The test, held on Xbox One and PC, allowed gamers to try out three game modes and two maps from the full version. They were also able to rank up and use new unlocks such as weapons and burn cards to build customized loadouts.
The Xbox One and PC versions will launch on March 11th in North America and on March 14th in Europe. The game will then land on the Xbox 360 two weeks later.
Staff Writer at CinemaBlend.
Your Daily Blend of Entertainment News
Thank you for signing up to CinemaBlend. You will receive a verification email shortly.
There was a problem. Please refresh the page and try again.