Titanfall Xbox 360 Release Date Delayed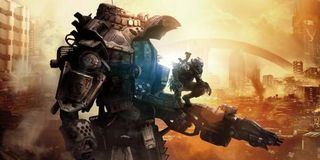 Titanfall won't be a simultaneous launch on Xbox One, Xbox 360 and PC. Publisher EA has announced that they're pushing back the release date for the 360 version.
"In these last few weeks before launch, Respawn is in the final stages of polishing the Xbox One and PC versions of the game," said EA Studios executive vice president Patrick Soderlund on the company blog. "Bluepoint is doing the same with the Xbox 360 version. To give them the time they need to put the finishing touches on the current-gen version of the game, we are moving the Xbox 360 ship date to March 25 in North America and March 28 in Europe."
"The extra two weeks will ensure the full world of Xbox gamers has an awesome experience."
Soderlund added that the Xbox One and PC versions will still arrive on March 11th in North America and March 13th in Europe.
Xbox 360 gamers will also miss out on the planned beta, apparently. The test was announced for the Xbox One and PC last month. Bluepoint's made no indication that they're going to hold a beta for the 360.
It's a weird situation for Xbox 360 gamers to find themselves in. There are 80 million of them out there and they could contribute the lion's share of Titanfall's (potentially huge) sales but they're getting the game later than Xbox One and PC owners. Furthermore, they won't be able to try it before launch.
That's what happens when a new generation of consoles launches, though. Developers and publishers release last-gen versions to scoop up some extra sales but there's no question that their priority is on the newest, fanciest hardware. Eventually they'll abandon Xbox 360 and PS3 development altogether. You have to upgrade to a better computer or a new console to keep playing the new releases.
There's some silver lining for gamers buying Titanfall on Xbox 360, though. For starters, they'll be able to see abundant footage of the game from the PC and Xbox One versions. The 360 version won't match up exactly in terms of visuals but you'll still be able to decide whether the parkour and mechs gameplay is your thing or not.
Also, Bluepoint has deep experience in porting other studios' games. They were responsible for the HD remakes of God of War and Metal Gear Solid series. They most recently created the PS4 and Vita versions of PS3 indie game Flower. All of these ports were well-reviewed so there's a good chance that they'll properly translate Titanfall to Xbox 360 as well.
Staff Writer at CinemaBlend.
Your Daily Blend of Entertainment News
Thank you for signing up to CinemaBlend. You will receive a verification email shortly.
There was a problem. Please refresh the page and try again.