Titanfall Beta Announced For Xbox One And PC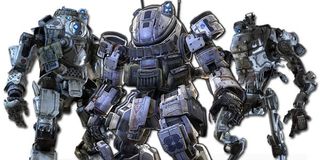 Update: Today's leak has led Respawn founder Vince Zampella to officially announce the Titanfall beta over Twitter:
He didn't mention whether the launch date mentioned in the leak was accurate, though. Stay tuned for more information later in the week.
Original article: Respawn Entertainment's multiplayer shooter Titanfall could be getting a beta test after all. French retail chain Micromania says that the beta will kick off in February.
Micromania (via Xboxygen) says that the beta will be available on Xbox 360, Xbox One and PC. In France, it will be exclusive to gamers who pre-order through that chain. If you live elsewhere in the world, you can allegedly secure beta access through Gamestop.
The beta will supposedly kick off on February 14th and run until February 19th. That would give Respawn about a month to use tester feedback to tweak the game before its official launch.
Earlier this month Respawn held a weekend alpha test for Titanfall. The test was restricted to a small number of Xbox One gamers, unfortunately. Most of us had to be content watching the leaked footage.
I'm happy to hear that Respawn will be opening up the game to more public testing. Xbox 360 and PC owners will make up a significant chunk of the player base so they have just as much of a right to test-drive the game. It's a shame that players will have to pre-order in order to get access, though. It always struck me as odd that you need to pay for a game so you can try it early to find out whether it's worth paying for. I still think that an open beta would be the best idea, as it would give the game as much exposure as possible. Publishers rarely pass up an opportunity to guarantee more pre-orders, though.
There is a chance that players who didn't pre-order will get beta access, though. Generally closed betas are accompanied by giveaways so that few lucky players can test the game without paying a cent. Also, the pre-order customers might only be getting early access rather than exclusive access. The beta could open up to the general public a few days later. That might be the best of both worlds for Respawn and EA: they get the bump in pre-orders from the early access, and then they put the game in as many people's hands as possible with the open beta period.
In spite of today's apparent leak, Respawn isn't offering any details on the beta just yet:
While you wait for a beta test announcement, be skeptical of any email invitations you receive. There's a good chance that someone's trying to phish you.
If you're looking to pre-order Titanfall, you've got two options: the $60 standard edition and the $250 collector's edition. The latter includes an artbook, poster and 18" Titan statue.
Staff Writer at CinemaBlend.
Your Daily Blend of Entertainment News
Thank you for signing up to CinemaBlend. You will receive a verification email shortly.
There was a problem. Please refresh the page and try again.