Top 5 Gaming Accessories For Under $10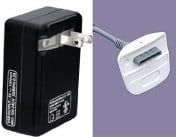 With the economy on the fritz, food prices skyrocketing, and money growing thin, gamers will need to exercise budgetary caution when buying games and accessories. Of course, what better place to come to for a list of useful gaming accessories than your friendly, neighborhood Blend Games? Well, there's Amazon, but that's beside the point.
Anyway, we have a list of five gaming accessories that will help you save some hard earned cash during this holiday season. Going from most expensive to least expensive, here is a list accessories for under $10, which might make your holiday gaming a lot more fun, and inexpensive.
5. PS3 Dual Play And Charge Kit: $9.95
The Nyko Dual Charger offers gamers the convenience of playing their favorite PS3 titles while kicking back their heels and charging the controller at the very same time. There's no more worries about getting halfway through a level and realizing that the controller's battery is low. The added budget price makes this accessory a great buy for anyone who has yet to get their hands on a charging station for the PS3.
4. Wii Dual Charger: $7.35
Anyone who actually has fun playing their Wii games knows that those darn Wii-motes eat up batteries about as fast as Nintendo makes money on the Wii-Play and Wii-mote combo-pack. So to keep your Wii-gaming as cost effective as possible, it would definitely benefit the frugal gamer to have a charger on hand. In this case, the Wii Dual Charger offers gamers the option to charge two Wii-motes at once, for under $10 bucks. Not that bad a deal, if you ask me.
3. Nintendo Wii-Fit Battery Pack: $6.99
So you're getting fit and toning up with your Nintendo Wii and the whole uber-popular Wii Fit program. That's good. But like any Nintendo product, the thing consumes energy and batteries like crazy. So why not play and charge the darn thing while you trim your thighs and tighten your tummy? Well for only $6.99 gamers can snatch up a Wii-Fit Battery Pack that connects to the Wii or PC, allowing gamers to charge up their Wii balance board while getting fit. Now that's budget gaming for you!
2. Xbox 360 Play And Charge: $6.95
I can't say that this is that great a deal, considering that this only charges one controller at a time. However, this device at least lets gamers play games while the controller charges. So all is not lost with this $6.95 single-controller charger. The 6ft cable gives gamers some good distance and the generic USB cable is made to last, which means that you might be using the charger more than your RROD Xbox 360. And anything that works with the 360 for under $10, and lasts longer than the console, has got to be a good item.
1. Xlink Kai: Free
Whether you're using an Xbox 360, a PS3, a Gamecube or a PSP, all your multiplayer console needs are generally met with this free online networking service. For Xbox gamers this will probably look most enticing as a free alternative to Xbox Live, without all the bells and whistles. But for PSP gamers, this probably looks like a multiplayer haven; offering a broad range of games with great accessibility makes XLink an easy must-have for Sony's handheld gaming device. And best of all, this is the only accessory on this list that you can get your hands on, which won't cost you a dime.
Your Daily Blend of Entertainment News
Staff Writer at CinemaBlend.