Uncharted 3 Sells 3.8 Million Copies In One Day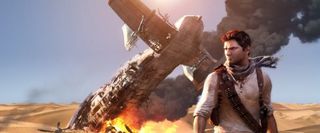 Call of Duty: Modern Warfare 3 may have broken records before people even picked up a copy off of retail shelves, but that doesn't mean it's the only game moving big units throughout the season. Sony has announced that the venerable and highly lauded action-adventure game, Uncharted 3, has sold (and not shipped) a very, very impressive 3.8 million copies within a single day of being available on the market.
The news comes courtesy of GameIndustry.biz, who reported that Sony revealed to them that the third outing for Uncharted not only happens to be selling quite well as a first-party title for the PS3 but it also happens to be racking up some major points on Metacritic as well, sitting pretty at a 92 percent out of 100. Very nice.
While the game could be criticized for its very linear stage designs and shallow AI, the game right now is the only one of its kind offering cinematic-style gameplay combined with thrilling platforming, a respectable fighting system and third-person shooting. The only thing that would have made the game pitch-perfect is if they added in Euphoria based AI and animation mechanics, as well as destructible environments. However, I think that may be asking a little too much from the PS3 at this point.
Uncharted 3 has also been nominated for the Game of the Year Award for this year's Spike TV's VGAs. It's facing off against some stiff competition from Batman: Arkham City, Legend of Zelda: Skyward Sword and the extremely popular Elder Scrolls V: Skyrim.
You can pick up a copy of Uncharted 3: Drake's Deception right now from local or online retailers, or learn more about the game by visiting the Official Website.
Staff Writer at CinemaBlend.
Your Daily Blend of Entertainment News
Thank you for signing up to CinemaBlend. You will receive a verification email shortly.
There was a problem. Please refresh the page and try again.