Uncharted 4 Might Run At 60 FPS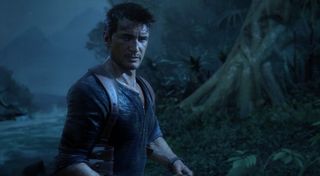 One of Naughty Dog's goals this gen is to up the specs of games from last gen to this gen. Last gen we had a lot of 720p games at 30fps. This gen, gamers are expecting that developers will up the ante and standardize 1080p at 60fps. It's the natural evolution of technology.
Over on Videogamer.com they caught wind of an interview from issue 276 of Edge Magazine, where they spoke with Bruce Straley, the game director for Uncharted 4, who explained where the team currently stands with getting Uncharted 4 running at the highest possible resolution with the best frame-rates possible.
According to Straley...
We've seen this kind of talk before given that the hardware for this generation – while considerably more powerful than the hardware from seven-gen – is still pretty far off from where high-end PCs were two years ago. A lot of gamers have expressed some disappointment in the lower-end specs from both the PS4 and the Xbox One. However, the PS4 is a lot more powerful than the Xbox One... still, it's not quite powerful enough to manage 1080p and 60fps on every game. In the case of Killzone: Shadow Fall, the multiplayer is actually 1080i at 60fps.
Naughty Dog actually managed to get things rolling with The Last of Us Remastered. They had previously mentioned that they wanted to use the game as a test-bed to see if they could get Uncharted 4 running at 1080p and 60 frames per second. They did actually manage to get The Last of Us Remastered running at 1080p and 60fps, much to the praise and delight of fans.
Right now, things aren't looking as if they'll be able to hit those same benchmarks and maintain the level of graphics fidelity that they may be gunning for. The team has – according to the Videogamer article – managed to get the game to run above 30fps. The exact benchmark is 37fps.
The likelihood is that Naughty Dog will probably go full fledged with 1080p and 30fps. If the game isn't finalized and they're going to want to optimize the experience with top notch graphics and smooth-as-butter gameplay with as few frame drops or stuttering as possible, I imagine they'll want to play it safe at 30fps instead of gunning for 60fps.
But a lot of this will depend on how high-end they aim for the graphics with Uncharted 4. The game is scheduled to release later this year during the fall, exclusively for the PlayStation 4. I'm sure we'll get a definitive answer about the frame-rate by the time E3 comes along, given that the team should be getting ready to wrap up development and add the final touches before release.
Staff Writer at CinemaBlend.
Your Daily Blend of Entertainment News
Thank you for signing up to CinemaBlend. You will receive a verification email shortly.
There was a problem. Please refresh the page and try again.