Uncharted 4: A Thief's End Targeting 1080p, 60fps For PS4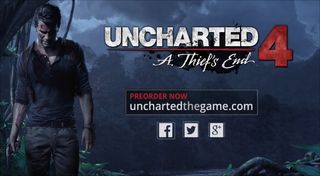 Oh boy, it's not just that Sony took an opportunity to drop a megaton at this year's E3 by revealing that Uncharted 4 is coming next year for the PS4, but they also revealed that all the teaser footage they released in the announcement trailer was all done in-engine... running on the PlayStation 4.
Not only was it revealed that the video trailer – which you can conveniently view below – was composed of in-engine footage, but they also revealed that the game would be targeting native 1920 x 1080p resolutions at 60 buttery-smooth frames per second.
The news comes courtesy of the official PlayStation blog, where Naughty Dog's community strategist Eric Monacelli where he wrote that...
Double the polygons of Joel from Last of Us? Not bad. The small facial nuances that Nathan makes in the video are what impressed me most. Hand animated or did they marker North's face? I guess we'll find out during one of the behind-the-scenes dev docs as the game reaches closer to the goal of its release date.
I still can't get over how much they made Nathan Drake look like Nolan North. It's such a cool thing and a great way to end Nathan's journey(s) (assuming this is the end of his journey?)
But what's more is that the game is expected to run native 1080p and 60fps. It's a very obvious push-back from Microsoft's announcement earlier in the first pre-E3 conference showdown where they revealed that Halo: The Master Chief Collection would be native 1080p at 60fps, running all the games at higher resolutions and better, smoother frame-rates than any of the games that ran on the original Xbox and Xbox 360.
But having Uncharted 4 compete – well, as far as announcements go – with Microsoft's exclusive on the resolution and frame-rate front was a great way to turn the tide of the conversation regarding Sony's lack of 1080p and 60fps exclusives.
Of course, Uncharted 4 is a pretty big game that everyone with a PS4 will most likely want to get. However, Sony will have to get through the rest of 2014 before they can get there and they'll also have to deal with Halo 5: Guardians in 2015 when both the PS4 and Xbox One's AAA exclusives will drop.
This E3 answered about as many questions as it opened up the door for more answers. More than anything, this just makes the console wars so much more intriguing as we head into the fall and prep for all the mega-bombs in 2015.
As if the main image doesn't make it obvious enough, you can pre-order the game right now from Sony's official website.
Staff Writer at CinemaBlend.
Your Daily Blend of Entertainment News
Thank you for signing up to CinemaBlend. You will receive a verification email shortly.
There was a problem. Please refresh the page and try again.