User Provides Fix For Mass Effect 3 Black Screen Bug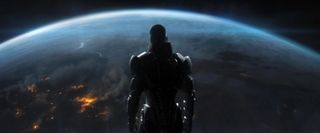 We briefly notified readers about the Mass Effect 3 Black Screen of Death, where you basically can't play the game at all using your Xbox Live profile because, well, it's a black screen of death and you can't play the game.
Anyways, BioWare notified the Mass Effect community that they would be looking into fixing the Black Screen of Death by investigating the matter. However they're still looking, since March 22nd, and gamers are still stuck with a Black Screen of Death. Well, you no longer have to deal with BSOD because a fellow named Resante has the answer.
Ethical Gamer has been keeping track of the issue for some time and offers links to help gamers fix the glitch that prevents them from playing Mass Effect 3. Essentially, the game boots up and then locks up when you press start. It turns out that there's an issue with the profile and since the game's saves are attached to profiles it's impossible to play the game without an active profile (it's EA's way of using console-based DRM, but good luck trying to play Mass Effect 3 ten years from now after EA shuts down the servers).
What's more is that Ethical Gamer encourages you stay away from EA's technical support because they have no auspicious intentions of preserving your hard drive data or saved games. The methods they take you through will supposedly leave you frustrated and having to reinstall a lot of software. I haven't tried it myself so I don't know, but I mean, it's EA we're talking about here so...well...yeah.
Anyways, the resent Resurgence DLC that launched yesterday with the patch does not fix the Black Screen of Death bug. So even if you patched up to the latest version you're still at risk of getting the bug. As usual, BioWare is looking into the issue.
If you're willing to risk tampering with your profile for the sake of Mass Effect 3 you can check out Resante's fix over at Ethical Gamer.
The real question is whether fixing Mass Effect 3 via your own devices is worth the risk of getting banned from Xbox Live or is sticking with a $60 coaster a worthwhile alternative?
*Warning* You'll be using the Resante fix at your own risk.
Your Daily Blend of Entertainment News
Staff Writer at CinemaBlend.