Velocity Ultra Speeding To PlayStation Vita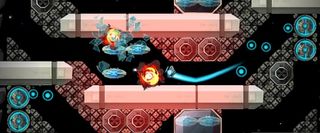 After winning over the hearts of gamers and critics alike, the award-winning PlayStation Mini, Velocity, is finally making its way to the PlayStation Vita. Not just a simple port, however, Velocity Ultra will feature a slick graphical overhaul and all new features unique to the system.
The original Velocity is a vertically scrolling shooter, harkening back to arcade games of old. Developer FuturLab decided to shake up the formula, though, adding a variety of mission types, a wicked-cool teleporting system and all of the bullet hell shooting you could hope for. The result was a retro-themed shooter that not only paid homage to the genre greats, but managed to stand toe-to-toe with those titles as well. It was an unexpected gem of a Mini and, in a few months, it should be better than ever when Velocity Ultra launches on the Vita.
FuturLab Managing Director James Marsden dropped by the PlayStation Blog to talk about the game's development, highlighting the changes series fans can expect. For starters, Velocity Ultra is getting a complete graphical overhaul. Formerly sporting a pixellated vibe, everything will look glossy and smooth now as the cut scenes and play field turn to a more "cartoon" aesthetic. There are even some pretty spiffy before and after photos within the blog post.
While the core gameplay should remain the same, this latest version of Velocity will also add visual effects, a native resolution, Trophies, online leaderboards, etc.
"You can think of Velocity Ultra as the director's cut; everything we would have done the first time around if we'd had the budget," said Marsden. "Our goal now is to create a perfectly formed piece of interactive art that will do your shiny PS Vita justice."
While no release date has been pinned down yet, Marsden said the studio is on schedule to hit Sony for certification in April. As a result, he's hopeful for a May launch.
For more details on Velocity Ultra, visit the game's official website. You can also participate in a poll to help shape the game's impending sequel.
Staff Writer for CinemaBlend.
Your Daily Blend of Entertainment News
Thank you for signing up to CinemaBlend. You will receive a verification email shortly.
There was a problem. Please refresh the page and try again.