Walking Dead Season 2 Details Coming This Month, Game Of The Year Edition Revealed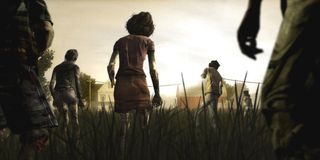 Telltale is on the verge of spilling the beans about the second season of their The Walking Dead adventure game. In the meantime, if you haven't played the first season, there may soon be an easy way for you to catch up all at once.
The ESRB has rated The Walking Dead: Game of the Year Edition. The GOTY edition will be coming to Xbox 360, PS3, PC and Mac. It presumably includes the full five-episode season released last year.
Season One was already released on a single disc in December, though. In order to differentiate the Game of the Year edition, Telltale will probably be including the 400 Days downloadable content. 400 Days, released this summer, is a set of five short stories set during the zombie apocalypse. It answers a lingering question or two from the first season while also introducing new characters that will probably appear in Season Two.
If you haven't played The Walking Dead, I'd strongly recommend picking it up. It's a more emotional and gripping Walking Dead story than any season of the TV show. While it's technically a point-and-click adventure, it enhances the usual formula with a mixture of combat, stealth and branching dialogue.
While Telltale will probably design Season Two to be accommodating to new players, it would be best to start with the first season. A key component of The Walking Dead is player choice. Your decisions throughout the game have both short-term and long-term effects on the story. Player choices from Season One affect 400 Days, and choices from both will change the story of Season Two.
Speaking of Season Two: Telltale said yesterday on Twitter that they'll be talking about the next episodes of the game in a matter of weeks:
Thus far Telltale has only given small hints on Season Two. We know that Clementine and Kenny will each be making appearances. Characters from the comic books could make a cameo, just as Glenn did in the first season.
They previously announced that the season would be released - or at least begin - this fall. When Telltale's ready to talk about Season 2, I imagine they'll share a release date. We're quickly running out of fall to release, after all. Another possibility, that I'm hoping doesn't come to fruition, is that they'll announce that Season 2 won't be out until 2014.
Staff Writer at CinemaBlend.
Your Daily Blend of Entertainment News
Thank you for signing up to CinemaBlend. You will receive a verification email shortly.
There was a problem. Please refresh the page and try again.