War Thunder Officially Rolls Out Ground Forces Update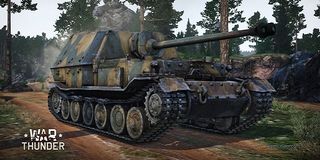 The flyboys tearing up the skies of War Thunder are about to have some new friends cruising around at a lower altitude as Gaijin Entertainment announces the official launch of Update 1.41 for its free-to-play game, Ground Forces. As you might have guessed, that means tanks, tanks and more tanks.
It's been Gaijin's plan from the beginning to eventually morph War Thunder into a tactical combat game that sees players waging war in the air, on the land and at sea. The game launched with the "air" part of that equation already taken care of, giving players loads of World War II era aircraft to pilot on a quest to accomplish individual mission and dogfight with other players. And while the "sea" component is still deep under wraps, it's officially time to hit the ground rolling with this latest expansion.
Gaijin has hosted several beta phases for War Thunder's tanks, giving more and more players a chance to take their rolling death machines for a test drive to make sure all of the nuts and bolts of the operation are bolted down firmly. Apparently the developer is happy with what they've seen so far, because now the Ground Forces content is here for everyone gaming on the PC version of the game to enjoy. No word yet on if the OnLive or PlayStation 4 version of War Thunder has upgraded with tanks, too, and I can't check for myself seeing as how the PS4 version of the game still hasn't launched in the US. No worries, Gaijin, I'm not impatient or anything. Europe has had the game since the console launched last year and all but, you know, I can wait. *checks watch angrily*
"Our goal from the beginning with War Thunder was to create a game that allows players to safely experience the perils of a full-scale world war," said Anton Yudintsev, CEO of Gaijin Entertainment. "The rumble you hear in the distance is the sound of many of our six million players launching their earth shaking attacks using heavily armored ground forces. Players who prefer aerial battles better keep one eye in the air and one eye on the ground because Ground Forces Expansion has launched."
Along with the usual plane advancement tree players are used to seeing in War Thunder, you can now enhance your arsenal with an ever-growing family of tanks. The newest update also boasts improved player progression, giving players more options for creating their favorite fleet. And, since the game is free-to-play, the vast majority of this content is available at no charge. If you want to expedite that process or trick out your ride with certain cammo, then feel free to drop a few dollars in the coffer and get to enjoying yourself more quickly.
At present, Ground forces offers access to Soviet and German tanks with additional nations to roll out on the regular. Dozens of light, medium and heavy tanks are currently available, so we're guessing this initial launch should keep you busy for a while.
Staff Writer for CinemaBlend.