Warframe PS4 Update Includes Revamped Tutorial, UI, Pets And More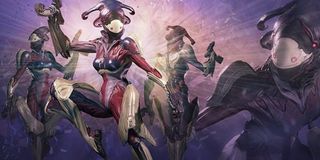 Alright, ninjas, get ready for what is potentially the largest update to ever come to Warframe since it launched on the PlayStation 4 last year, as the team at Digital Extremes introduces Update 14: The Mad Cephalon. It's available right this very minute and, along with a new frame and plenty of new missions to dive into, you'll be able to enjoy an overhauled UI, a brand new tutorial, new gear, breeding grounds and more.
I began playing Warframe shortly after it launched on PS4 and while the actual gameplay was fast and fun, I found the Warframe experience to be a bit obtuse. It was difficult to figure out how the menus worked, reading the star chart was a pain, and unlocking, upgrading and equipping new gear became a task of trial and error rather than having those features explained outright.
Digital Extremes Associate Producer Pat Kudirka recently posted about these issues on the PlayStation blog, as well as what Update 14 has done to address them.
For starters, players will now have the ability to tackle a brand new, in depth tutorial chapter called Vor's Prize. In it, players will undergo missions tasking them with rebuilding parts of their ship which will, in turn, grant access to and more information about the Marketplace, Arsenal, Mods and Foundary. Old school players will have the ability to jump into this new tutorial in order to experience its lore, too, but not at the cost of their current content. They will have to play the tutorial as if they are new to the game, but all of their progress will be retained and returned as soon as the tutorial is complete.
Navigating the game will be further enhanced by an updated UI system, which should make it far easier to get to the content and info you need more quickly, as well as see what progress you've made through the game.
For those of you adventuring deeper into the game, new Hive Infestation breeding grounds have been added, bringing a whole new game type to Warframe. Just in time for the Halloween season, this creepy, claustrophobic mode promises to be the game's most creative and "probably grosses" to date, according to Pat Kudirka.
You know what's also cool? Owning your very own space pet. The Kubrow is a somewhat menacing looking pooch, but players can now adopt one of their own and help it grow into a ferocious beast. And, yep, eventually you'll be able to bring them into battle with you.
As with all updates, you can also expect the usual dose of new weapons, mods and abilities in The Mad Cephalon, which will download automatically the next time you boot up Warframe on your PS4. And don't forget, the game is coming to Xbox One soon, too.
Staff Writer for CinemaBlend.
Your Daily Blend of Entertainment News
Thank you for signing up to CinemaBlend. You will receive a verification email shortly.
There was a problem. Please refresh the page and try again.