Was Tony Hawk 5 Just Leaked By A Caterer?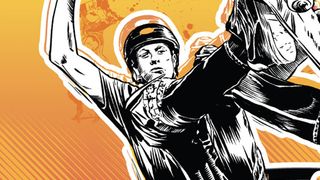 For 13 long years, gamers have been waiting for another Tony Hawk's Pro Skater title. And after a seemingly endless stream of Tony-Hawk-themed spinoffs, it looks like the folks at Activision are finally giving in. Though, the publisher hasn't made an official announcement, so you'll have to take the caterer's word for it.
This week, chef Joe Youkhan may have accidentally unveiled an unannounced Tony Hawk title when he uploaded a photo to his social media accounts. The picture obviously wasn't meant to subvert Activision's marketing; Youkhan was just showing off the spread at his most recent catering job.
Unfortunately, like so many people who take selfies in the bathroom, Youkhan committed one of photography's cardinal sins: he didn't check the background.
The picture was taken before some kind of catered symposium that was cleverly setup on a skateboard ramp. The half pipe contained enough tables and chairs to comfortably seat about 80 people, and a speaker's podium was set up on one end of the room. A presentation screen is attached to the wall behind the podium, and the words "Tony Hawk 5" are clearly visible.
The image was quickly removed from Instagram and Facebook, but the damage was already done. Several news outlets posted screenshots and contacted Activision, looking for a confirmation.
The folks at Polygon got in touch with a Tony Hawk representative who would only tell them that "Tony Hawk 5" was a working title. So, it's half-confirmed, I guess?
The fact that Activision is gearing up for another Tony Hawk title shouldn't surprise anyone. Last year, the publisher confirmed that the franchise was about to make a comeback, and Tony Hawk himself tweeted about it back in November.
Hawk's announcement was the result of some prodding by fans that were asking about Tony Hawk's Shred Session, an iOS and Android game that was shelved in favor of a Pro Skater sequel.
Now, I don't want to upset any Xbox One owners, but there's a possibility that this title will be a PlayStation 4 exclusive. Back in January, Sony mentioned Tony Hawk Pro Skater during its CES keynote address. Very few details were given, but the way Sony talked about the game suggested some kind of special relationship.
However, until Activision makes an official announcement, we can't really speculate on the details. Though, it's probably safe to assume that we'll hear something by E3. You can wait until June, can't you?
Your Daily Blend of Entertainment News
Your Daily Blend of Entertainment News
Thank you for signing up to CinemaBlend. You will receive a verification email shortly.
There was a problem. Please refresh the page and try again.