Tony Hawk's Pro Skater HD Set For June Release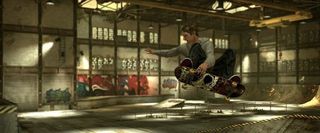 Robomodo is waiting until the weather warms up a bit before they release their HD remake of Tony Hawk's Pro Skater. Tony Hawk himself revealed today that the skateboarding game will arrive in June.
"One more: HUGE thanks to @robojoshy for the donation & for keeping the THPS dream alive with @TonyHawksPSHD (out in June... yeah I said it)," tweeted Hawk this week. The "robojoshy" mentioned in the tweet is Joshua Tsui, the co-founder of Robomodo.
Tony Hawk's Pro Skater HD isn't a straight-up remake of the original Pro Skater. It mixes elements of several older games in the series. For example, it contains remade levels from both Pro Skater and Pro Skater 2. The controls will incorporate innovations introduced in later installments. The soundtrack is likewise a mixture culled from several games.
The same basic gameplay remains intact, though. Players will strive toward level-specific and global challenges. They can take on the role of several real-world skateboarding icons, including Eric Koston, Andrew Reynolds, and Rodney Mullen.
Pro Skater HD is a chance at redemption for the series and for Robomodo. The studio was responsible for the last two games in the series, Tony Hawk: Ride and Tony Hawk: Shred. Those titles are widely considered the worst in the series, thanks in part to the awkward (and expensive) skateboard peripheral that shipped with them. The Tony Hawk franchise has been on hold since Shred's release. Perhaps Pro Skater HD will be able to win back fans' trust.
Robomodo will release Pro Skater HD through both PSN and Xbox Live Arcade. No price has been revealed yet.
Staff Writer at CinemaBlend.
Your Daily Blend of Entertainment News
Thank you for signing up to CinemaBlend. You will receive a verification email shortly.
There was a problem. Please refresh the page and try again.