This Week In Video Games: Fallout 4 And Porn Are Together At Last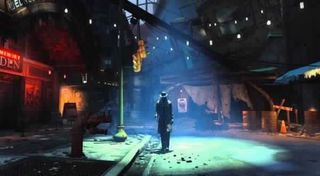 The end of the summer always brings out conflicting emotions in me. On the one hand, the fall brings a slew of new releases that I can play until my skin tone regresses from wood glue to Elmer's.
On the other hand, the end of summer makes me remember all the goals I set in May and didn't accomplish. Oh, the plans I made! I was going to write a teen dystopian novel and get some of that Hunger Games money. The main character is a video game developer living in a society where your Metacritic score determines how many kids you can have. Our hero learns that he's really the Chosen One and his tattoo lets him - oh, I've said too much.
Anyway, here's what happened last week in video games.
Top Stories Of The Week
EA: Stop Complaining About On-Disc DLC - Okay, you talked me out of it.
Familiar Faces Won't Be Returning For Mass Effect: Andromeda - Players won't be getting Commander Shepard's sloppy seconds.
Why Guillermo del Toro Is Done Making Video Games - In a way, he never really started.
You'll Probably Never See Previous Witcher Games On PS4 Or Xbox One - It's now newsworthy when a developer decides against selling us the same game twice.
EA Removes Patrick Kane From NHL 16 Cover Due To Criminal Investigation - "We're perfectly capable of generating bad press on our own, thanks."
There's Definitely A Remake Of Resident Evil 2 Coming - Capcom is bringing us back to the good ol' days when zombies couldn't climb stairs and the police outfitted their offices with statue puzzles.
Here's Why You Won't Be Hearing Any Elder Scrolls News For Some Time - Is Bethesda too busy suing someone for saying the words "The" and "Elder" out loud?
PS4 Update 3.0 Might Disappoint You - "We've carefully weighed your feedback and realized we like our feedback better."
Why Gamers Are Watching Fallout 4 Footage On A Porn Site - Well, the website did promise stiff models...
What Could This New Diablo Project From Blizzard Be? - Can't wait to not be able to play it on launch day.
Video Of The Week
A simple motorcycle crash in Grand Theft Auto 5 escalates into a five-minute, epic pileup:
Quote Of The Week
"You know, I see Just Cause 2 as sort of a Uwe Boll movie. And I see Just Cause 3 as an Expendables movie, or a Michael Bay movie. That's how I'd compare it." - Just Cause 3 art director Zach Schläppi, explaining the differences between the two sandbox action games.
Staff Writer at CinemaBlend.
Your Daily Blend of Entertainment News
Thank you for signing up to CinemaBlend. You will receive a verification email shortly.
There was a problem. Please refresh the page and try again.