Whore Of The Orient Aiming For 2015 Release On PS4, Xbox One, PC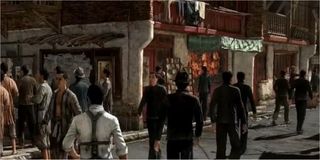 We haven't had a whole lot of information coming out about the troubled production of Brendan McNamara's Whore of the Orient, which is now under the licensing hold of KMM Interactive. However, recently new info has sprouted up to suggest a 2015 release for the game from the same people that brought you LA Noire.
After the publicly humiliating fallout from Team Bondi and Rockstar wringing at each others' necks, we hadn't heard much about Whore of the Orient other than seeing a small clip of the gameplay that released a few months ago, and that it would be coming to next-gen consoles, about a year ago before that.
Well, earlier today Gamespot spotted an entry from Kotaku's resident Superannuation. The entry notes that the development team is hiring for the upcoming Whore of the Orient, and it's not just that they're hiring but they have a release window in mind... mostly a 2015 release.
As noted in Superannuation's post...
Well that's reassuring... but not really.
The game has been in a difficult spot ever since Team Bondi fell on hard times following the release of their seminal title LA Noire, which was fairly well received by the gaming press and gamers alike. The title was cause for development controversy, however, as Team Bondi utilized some novel technology known as MotionScan, which could accurately read and capture miniscule details of facial reactions. It was basically a 3D rendition of the FMV process of filming techniques used back during the 1990s.
The technology was proven to be highly expensive and somewhat inconvenient given that body capture and voice/face capture had to be done separately, expanding the budget exponentially.
KMM Interactive will still be using the MotionScan technology for their upcoming title and it could be very interesting to see how this turns out for The Whore of the Orient. I'm hoping that they've found a way to condense the costs of the tech and recording techniques... it's always shame to see studios fold in under when they get in over their heads with something overly ambitious (e.g., RealTime Worlds with All Points Bulletin).
With a 2015 release scheduled for the game, I imagine time will fly getting there; and hopefully the studio will be able to get the title completed and out for home consoles and PC without closing the doors. Rumor has it (mostly because their logo was on the website) that Warner Bros. Games will be publishing the title. If this is true, then Warner Bros., could have a very big line-up of games for eighth gen, including the Batman titles and The Witcher 3.
Your Daily Blend of Entertainment News
Staff Writer at CinemaBlend.