Why Call Of Duty: Black Ops 3's Latest Publicity Stunt Ticked People Off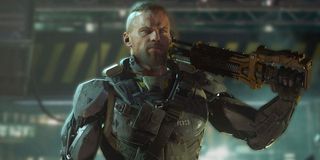 Activision decided to promote Call of Duty: Black Ops 3 in an unusual way yesterday: by reporting on a fake terrorist attack via Twitter. It didn't go over well.
The official Call of Duty Twitter account reported an explosion in Singapore at a laboratory. The government declared a state of martial law and quarantined a 30-mile area near the labs. Civilians trying to escape this quarantine were met with lethal force by the troops:
On the one hand, there are plenty of hints that this terrorist attack isn't real. The full set of tweets contain references to advanced technology like sonic weapons, drones and "relief VTOLs." The news report also concluded with a tweet that said it was "a glimpse into the future fiction of #BlackOps3." On top of all that, this is the Call of Duty Twitter account making these announcements.
That said, Twitter is an absolutely terrible place to present a long-form narrative. Individual tweets can be - and frequently are - shared out of context. If you only saw the first post without the others, you might actually think it's real. The fact that many news stories have broken on Twitter before professional news outlets gave these tweets at least some credibility. The Call of Duty Twitter account didn't help matters by renaming themselves "Current News Agg." for the entirety of their broadcast. The Twitter account's description, meanwhile, was changed to "Where we bring you real news."
Whether or not people were actually fooled by the tweets, some considered the social media stunt to be in poor taste. Fake reports of terrorism, even implausible ones, are never greeted warmly. Yes, people could quickly learn that the tweets were fictional just by checking Google but I doubt the short scare was appreciated by people who scrambled to verify it. You could also argue that the momentary confusion that these tweets caused was intentional, so as to make them more widely read and shared.
Anyway, what do you think? Was this a dumb idea on Activision's part? Let us know in the comments below.
Staff Writer at CinemaBlend.
Your Daily Blend of Entertainment News
Thank you for signing up to CinemaBlend. You will receive a verification email shortly.
There was a problem. Please refresh the page and try again.