Why Cam Newton Was Furious At Madden 15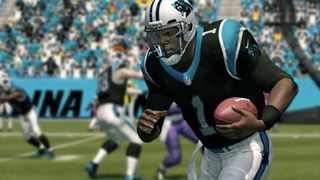 Very few people can casually refer to themselves as "a Czar" and get away with it. But Donny Moore is one of those people. For the last six years, Moore has been the Ratings Czar for Electronic Arts' Madden franchise. Every day, he stares at a trio of monitors, making slight adjustments to players' ratings based on speed, agility, strength, and 37 other categories.
For many NFL players, this makes Donny only slightly less powerful than a deity. So, most steer clear of his wrath.
But some aren't afraid of Moore's lightning blots. For instance, Carolina Panthers quarterback Cam Newton dropped by Moore's cubicle last April to complain about his speed rating.
In 2013, Newton led the league in rushing yards. But according to Moore's system, eight other quarterbacks were faster. So, when the QB showed up at EA headquarters, he wasn't in the mood for a friendly chat.
In an interview with FiveThirtyEight, Moore recounted Newton's visit:
"I want to talk about my speed," Newton said, shuffling into Moore's office. But after pointing to the gigantic boot wrapped around Newton's foot, the by-product of an ankle injury/surgery, Moore's ranking system started to seem a lot more generous to Newton. By the end of the meeting, Newton was thankful that Madden 15 hadn't made him even slower.
The Madden franchise has been the only name in virtual pro football for over a decade. Electronic Arts and the NFL signed some kind of blood-oath in 2005, which gave EA exclusive access to team names, logos, and uniforms.
The arrangement between EA and the NFL gives people like Moore an incredible amount of power. Each Madden title is like a time capsule. The rosters, the uniforms, the stadiums - they're updated every year to reflect the current state of the league. And, like it or not, player statistics are part of that capsule.
So, players like Cam Newton want credit for their accomplishments, but Donny Moore isn't here to dole out accolades. He's constructing an elaborate balance mechanic that's based on real people, which means some egos are bound to get bruised.
Even before Moore took over the Ratings Czar position in 2009, NFL players weren't thrilled with the Madden franchise. Back in 2006, Ethan Albright wrote a letter to John Madden himself after Madden '07 gave Albright a player rating of 53, making him the worst player in the game.
Albright was selected for the NFL pro bowl the following season.
Nobody's perfect, and Moore doesn't pretend to be. He's constantly making adjustments to player ratings based on grapevine reports. Last year he was reprimanded by a chunk of the Ravens' lineup after making Marshal Yanda the 26th-toughest player in Baltimore.
So, baring any further injuries, maybe Cam Newton's speed rating will get a boost in Madden 16. And avoiding Donny Moore's cubicle couldn't hurt.
Your Daily Blend of Entertainment News