Richard Sherman Is Madden 15 Cover Athlete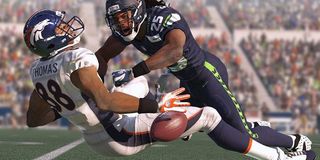 Seattle Seahawks defensive back Richard Sherman will be the Madden NFL 15 cover athlete. Sherman won the honor following a month of voting by fans.
Richard Sherman is coming off a dominant 2014 season in which he led the league in interceptions. He was named to the All-Pro First Team by the Associated Press and voted to the Pro Bowl by fans. Sherman and the rest of the Seattle Seahawks secondary, dubbed the "Legion of Boom," allowed the fewest passing yards in the NFL. Seattle's dominant defense helped the team win the Super Bowl - a first for the franchise.
Prospective Madden 15 cover athletes were matched up in a tournament. Fan votes determined who was eliminated and who moved to the next round. On his path to winning the tournament, Sherman beat out many popular players including New Orleans Saint tight end Jimmy Graham and 49ers quarterback Colin Kaepernick. He faced off against Carolina Panthers signal-caller Cam Newton in the finals.
Sherman seems like a natural fit for Madden. In addition to being a talented player, the guy acts like a video game character. Here's his fantastically over-the-top post-game interview from last year's NFC Championship:
He gets crapped on by the "millionaire athletes should be role models because I don't know" crowd. Nonetheless, he's an entertaining and skillful player. He's as good of a choice for cover athlete as any.
"Richard Sherman is a fantastic cover athlete selection by the fans," said Anthony Stevenson, Vice President of Global Marketing for EA SPORTS. "Defense is a big focus for Madden NFL 15, and Sherman is one of the brightest defensive stars in the NFL. He shares the same energy and passion for the game as our 'legion' of Madden fans."
Madden NFL 15's emphasis on defensive improvements is clear in the first gameplay trailer, also released yesterday. The trailer shows Carolina Panthers linebacker and Defensive Player of the Year Luke Kuechly taking down Seahawks running back Marshawn Lynch.
EA has held votes for the cover athlete since Madden NFL 11. It's proven to be a big draw for fans. They cast about 10 million votes over the course of this year's tournament, with about 650,000 votes per match. Sherman's just the latest in a string of good picks by fans. Previous cover athletes chosen by fans include Drew Brees, Calvin Johnson and Barry Sanders.
Madden NFL 15 will hit PS4, Xbox One, PS3 and Xbox 360 on August 26th. Here's the official box art for the PS4 version:
Staff Writer at CinemaBlend.