Why Every Gamer Should Go To GDC At Least Once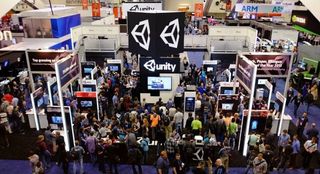 The Game Developer's Conference is held every year at the Moscone Center in downtown San Francisco. Two years ago was my first opportunity to attend the conference, and the experience changed my life. If you're someone who is invested in video games, whether you are a developer or just someone with a lot of passion for gaming, you need to dish out the money and visit GDC at least once—because it could change your life too.
The week before I left for GDC, I started to have a lot of stomach issues. It was so bad that I found myself going through bouts of nausea for no apparent reason. To top that off, one morning I woke up in my apartment to a strange smell. In Michigan in March, it was still the middle of winter and ice had busted a gas pipe and gas was leaking into the apartment. If there had been just one flicker or flame from a spark or a gas stove, I would've been done. So needless to say, I was eager to get out of town.
This had been the very first time I had ever been to San Francisco. I had my nose stuck to the plane's window, staring at all of the mountains and the different landscapes. When we landed, my boyfriend and I took the B.A.R.T. from the airport to our hotel. We had come from a small town in upper Michigan and if you were from out of town, the locals didn't speak to you. They'd give you "the eye." But here in San Francisco, we made conversation almost every time we were on public transportation, whether it was the train or the bus or in a Lyft cab. And it was easy, because the people were friendly.
Our hotel was a small motor inn right in the middle of San Francisco. Every morning we took the bus to the Moscone Center, which conveniently traveled through Chinatown. You could see all of the fresh produce laid out on the tables and the roasted duck hanging in the windows and fresh fish stuck in piles of ice. It was unlike anything I had ever seen.
The Game Developer's Conference was overwhelming at first, because there were so many people. But inside my head I kept reminding myself that, "these are my people!" On the very first morning after picking up my badge, I found the classic games area and spent 15 minutes blowing through Ghouls N' Ghosts on a Sega Genesis. While my boyfriend attended the audio track of lectures, I spent some time attending lectures on game writing. Funny thing is, at the time I wasn't interested at all. But what really struck me, even on my first day, was how friendly people were—and it was all about what was on your badge. Since I was walking around with a media badge, I got approached a lot. And though many developers approached me in hopes that I would write about their game, the lot of them were just interested in talking about games. I mean that's really why we were here, right?
To me, being at GDC for the first time felt a lot like the first day of a new school. And while I've been the new kid in school almost 10 times in my life, this process wasn't daunting at all for me. It was a place where I could push myself out of my comfort zone. I approached people and talked to them and I took part in discussions. I even kicked some guy's butt in Killer Instinct in front of a crowd because I was that good at button mashing.
While I was in San Francisco, I was still sick. Sometimes while riding the bus to GDC in the morning, I'd get nauseous and have to get off. But one time when I hopped off, we found ourselves on a hill overlooking the bay and Alcatraz and it was maybe one of the best views we had seen the entire trip. I like to think it wasn't a coincidence. And though I couldn't eat many of San Francisco's best food on that trip, I was fully immersed into Chinatown and all they had to offer in tummy-happy soups like Wonton Soup and Miso Soup.
At one networking party, I met the sound designer for the new Tomb Raider games where I talked his ear off like a star-struck idiot. And next to him sat the creator of the Resident Evil games who I barely understood because of the loud music. Silence in conversations makes me uncomfortable so when it gets quiet, I talk. More like babble. But what's great about these networking parties is there is no boundary between higher-ups and those just starting out. These two groups mesh together and it doesn't feel any different. Everyone's just a human being trying to enjoy their time at GDC. You'll walk past people with Capcom, Sony or Rockstar on their badges, and you'll silently go "Ooooh," to yourself. But what's great is you are totally open to speak with them if the opportunity arises.
For me, GDC wasn't just a hellishly expensive nightmare for a minimal video gaming experience. At GDC, I connected with people who were just as passionate as I was. You have no idea how many developers I met who were making their game for free, people doing it just because it's what they wanted to do. But aside from that, being sick wasn't even enough to keep me from enjoying myself. Even on a steady diet of light chicken broth, I walked miles in the evenings to get to networking parties at places like the IGN studio and Zynga studio and I persevered so that I could learn from those around me.
If you save up the money and set it aside, I highly recommend you attend GDC at least once. For me, it helped me step out of my shell and to realize the gaming industry, whether working on a game or in gaming media, is where I want to be. This was the moment I knew I was going to move out to California, out of Michigan, and dive head-first into video games. You need to get your ass to GDC because it's an experience that could change your life.
Your Daily Blend of Entertainment News