Valve Has Big Plans For Steam Machines At GDC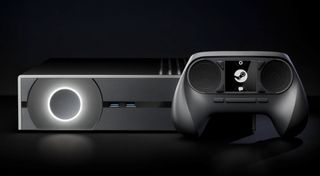 Valve had mentioned back in 2014 that the Steam Machines would be delayed. The delay would effectively move their launch into 2015. This gave Valve time to work on their controller and finalize the specs on their console-style PC. Well, Valve has made it known that the Steam Machines will make a big presence at the upcoming GDC this March.
Game Informer reached out to Valve following some comments about the Steam Machines name "being dead", and surprisingly enough they actually received a response. According to a representative at Valve...
I did mention they gave a response, I didn't say it was a very long one.
Anyway, the response above was in result of a recent interview that Origin PC's CEO, Kevin Wasielewski, had with Gamespot, in which he was asked about the term "Steam Machine" and responded by saying...
Computers have become a lot more living-room oriented over the years. Heck, even laptops are convenient enough for living room entertainment purposes. You just plug up the device to an HDMI compatible TV and you're good to go.
However, I disagree with Wasielewski about the term "Steam Machine" being dead. I think a good marketing push and a solid release date will reignite the flames of desire from consumers looking for a snazzy little, console-style PC that they can use for streaming, music, friends and gaming. It won't be long before "Steam Machine" specs are being debated across console forums and flame-wars are breaking out all over the place. And yes, Valve is focusing the Steam platform to support all sorts of home entertainment media. They've launched their in-home streaming feature, as well as the new Steam Music option that works very similar to the custom in-game music player that people loved so much about the Xbox 360 (still baffles me how big a step backward Microsoft took with that move going from the 360 to the Xbox One).
According to both Game Informer and Gamespot, Valve has also finalized their controller, making it easy and convenient for gamers to navigate PC menus with a gamepad. According to Wasielewski...
Well that's good news. We've been hearing about various alterations to the Steam Controller all throughout 2014. He's also right that they constantly revamped the design and made modifications to key areas since its first announcement.
Personally? I'm hoping they have modular options available for people who wanted the original Steam Controller design. I would buy that one in a heartbeat. Anything too close to an Xbox controller and I'll just stick with the Xbox 360/Xbox One controllers I already have. But I guess we'll find out more about the controller and the Steam Machines at GDC in early March.
Your Daily Blend of Entertainment News
Staff Writer at CinemaBlend.
Your Daily Blend of Entertainment News
Thank you for signing up to CinemaBlend. You will receive a verification email shortly.
There was a problem. Please refresh the page and try again.