Why Lizard Squad Hacked Xbox Live And PSN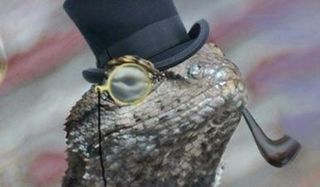 The hacker group Lizard Squad brought down Xbox Live and PSN with a DDoS attack over Christmas. In a new interview, one of the members explained why they decided to take the networks offline.
"We did it mostly to raise awareness, to amuse ourselves," Lizard squad member 'Ryan' told Sky News. "Also, one of the big aspects here was raising awareness regarding the low state of computer security at these companies. Because these companies makes tens of millions every month just from their subscriber fees and that doesn't even include purchases made by their customers."
"They should have more than enough funding to protect against these attacks."
The Sky News interviewer pushed back on this explanation. He pointed out that 'Ryan' was laughing while talking about the attack. He also noted that Lizard Squad has bragged about their exploits over Twitter. That makes it harder to believe that they launched the DDoS solely to raise awareness.
The interviewer asked 'Ryan' where he felt bad for leaving PlayStation and Xbox gamers unable to go online with their consoles. The hacker responded that Microsoft and Sony were the real victims because they lost money on the attack. He seemed to have less remorse about the inconvenience that gamers experience during the outage.
"I'd be rather worried if those people didn't have anything better to do than play games on their console on Christmas Eve and Christmas Day. I mean I can't really feel bad that I might have forced a few kids to spend time with their families instead of playing games."
Lizard Squad halted their DDoS attacks after reaching a deal with Kim Dotcom. They've agreed not to attack Xbox Live or PSN in exchange for lifetime premium membership to Dotcom's file-sharing service Mega.
Even if Lizard Squad doesn't plan to take the networks offline ever again, the prolonged outages they were able to inflict are still concerning. The group announced their Christmas attack on Xbox Live several weeks in advance. Sony, meanwhile, was well aware that the group was a threat due to a similar attack in August. In spite of their advance warning and vast resources, Sony and Microsoft were unable to keep their services online over Christmas.
To make matters worse, it doesn't sound as though it was particularly hard for Lizard Squad to take down PSN and Xbox Live. The hacker interviewed by Sky News said that the attacks were "basically done by three people." The youngest of the hackers was 13 years old. If such a small group can inflict that much damage - and then get rewarded for it - are we going to see others follow in Lizard Squad's footsteps?
Your Daily Blend of Entertainment News
Staff Writer at CinemaBlend.