Win Counter-Strike: Global Offensive Beta Keys By Taking Survey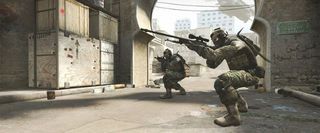 Valve gave out 9,000 beta keys for Counter-Strike: Global Offensive last week to community sites and current CS players. If you want to be eligible for the next wave of invites, you'll have to fill out a survey.
"Today we are opening up our online survey to everyone," said Valve. "The next keys will be sent on the basis of this survey. If you don't fill it out, you won't be getting a key. Over the coming months we will make selections from the survey participants. Sometimes we might add experienced players, other times new players. Sometimes 1.6 players, sometimes CSS players, sometimes people who have played neither."
It's a good idea to fill out the survey as soon as you can. Valve stresses that there are no wrong answers to the questions. They'll start distributing beta keys to survey participants as early as next week.
Once you get into the CS:GO beta, you'll receive gift keys to give to your friends. Earning these keys is simply a matter of logging in and playing. They want to at least be sure that you're using your own key before they give you codes to hand out.
Global Offensive is based on the popular Half-Life mod Counter-Strike. Players take on the role of terrorists and counter-terrorists and participate in objective-based battles. CS:GO adds a next-gen shine to the original content while also introducing new maps, modes, and weapons.
Valve has provided no specific timeframe for the beta's end. They plan to launch the full version of the game when the community tells them the game is ready. Though the beta is limited to Steam, Valve also plans to release the game on the Xbox 360 and PS3.
Your Daily Blend of Entertainment News
Staff Writer at CinemaBlend.
Your Daily Blend of Entertainment News
Thank you for signing up to CinemaBlend. You will receive a verification email shortly.
There was a problem. Please refresh the page and try again.