The Witcher 2 Only Cost $10.3 Million To Make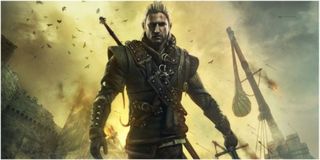 AAA game development budgets start at $10 million; the average AAA game costs $20 million to develop with maybe $20 or $30 million in marketing. Spending upwards of $40 million for a mediocre game in the AAA business is a common thing. We hear it often or more appropriately, get to see the numbers in the quarterly financial reports. CD Projekt RED is diffusing a lot of those inflated budgets for their games, as they revealed that The Witcher 2 only cost $10.36 million to produce, and both Cyberpunk 2077 and Witcher 3 have accrued about $7 million in expenses so far.
Polish legal site Gazeta Prawna [via DSO Gaming] had an interesting story with CD Projekt's CEO Adam Kicinski, who talked about budgets and spending, and the importance of being fiscally responsible especially during these harsh financial times.
Kincinski stated that...
In addition to having distribution partners, CDPR is also accruing cash flow from their DRM-free digital portal Good Old Games, which has seen more than 7.5 million dollars. The library still pales in comparison to Steam's monolithic offerings but they're getting there.
Thanks to appropriate spending, consolidating resources with a highly resuable engine (i.e., REDEngine) and establishing a strong relationship with the community (along with making great games), CD Projekt RED is actually in the black when it comes to capital, having slush in excess of just over 6.3 million z?, which is around $2 million U.S. dollars. That's extremely impressive for an independent company and it also marks a way for the company to pave out a considerably apposite roadmap for content and expenses.
Kincinski went on to say that...
I completely agree. Fiscal responsibility is not a term to be tossed around lightly. Seriously.
There are a lot of great minds and creative development studios falling in under during these times due to silly decisions that affect the futures of many. It's always heartbreaking to report on community-favorite studios whose doors are shuttered because they couldn't hit a Metacritic score, or they were denied bonuses because they couldn't move 10 million SKUs within the frame of two quarters, or a brand goes "dark" because it wasn't "broadly appealing" enough to ship 5 million SKUs in two weeks.
Thankfully CD Projekt RED is operated by smart individuals who pick their shots wisely. It's been a fascinating narrative seeing them go from being the angry underdogs fighting with the community to a leader in the forefront of independent development and publishing.
While I'm not all in on The Witcher 3, I'm so very, very, very excited for Cyberpunk 2077. The former will launch in 2014 for next-generation consoles and PC and the latter will arrive in 2015 thereafter. I'm also keen on finding out more about the smaller projects CD Projekt has in store for gamers.
Your Daily Blend of Entertainment News
Staff Writer at CinemaBlend.