World of Warcraft: Cataclysm Sells 4.7 Million In One Month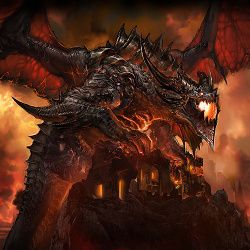 World of Warcraft: Cataclysm's record-setting launch day has led to a record-setting month. Blizzard announced today that the MMO's third expansion pack has sold 4.7 million copies since December 7th.
Cataclysm sold 3.3 million of those copies on launch day. The game was released simultaneously in the United States, Canada, Mexico, Argentina, Chile, Europe, Russia, Southeast Asia, Australia, and New Zealand. It expanded to Korea, Taiwan, Hong Kong and Macau on the 9th.
The game is available through retailers as well as the digital Blizzard Store. Digital customers were allowed to pre-download the files and play it the moment the new content was activated. Activision did not disclose the split between physical and digital sales.
Though 4.7 million copies is an impressive haul, there's still plenty of room for growth. Blizzard says that the player population for the game topped 12 million before Cataclysm's launch. Sales should hold steady through the coming months as the more "casual" WoW players upgrade to the new expansion. Blizzard's offering free trials to ensnare them.
Staff Writer at CinemaBlend.