World Of Warcraft: Warlords Of Draenor Pushes Subscriber Total Back To 10 Million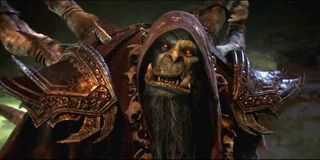 Every World of Warcraft expansion results in a big bump to the game's subscriber numbers. Warlords of Draenor was no exception, driving subs for the MMO up over 10 million.
This expansion's bump is much larger than the others, though. WoW's subscriber total was at 7.4 million as of September, which means that Draenor brought 2.6 million players into the community. By comparison, Mists of Pandaria's launch led to an uptick of around 900,000 subscribers. Burning Crusade, and Wrath of the Lich King each attracted about half a million players.
Cataclysm is the only expansion that doesn't seem to caused a significant spike in the player population. It should be noted, though, that was the point where WoW was at its peak of 12 million. Furthermore, we're only going off numbers released by Blizzard so we're only getting a rough sense of the trends.
WoW's player base last hit 10 million at Pandaria's launch. Since then, it's been steadily declining. Subscriber numbers hit an all-time low of 6.8 million in June.
Blizzard says that 3.3 million copies of Warlords of Draenor were sold in its first 24 hours. They add that the subsequent boost in subscribers was felt across "all major regions."
If you've tried to play Warlords of Draenor since its launch, you know the price of that stampede of new or returning players. The game's servers were absolutely overwhelmed at launch, resulting in lag, server outages and lengthy queue times. Blizzard lowered the population limits on servers to make them more stable, which unfortunately resulted in longer waits for players trying to log in.
The launch problems for Draenor led Blizzard to give active players five free days of game time.
"I also hope you'll accept my apology and keep your faith in us," said WoW executive producer J. Allen Brack yesterday. "The support voiced by many of you as we worked through the challenges was immensely appreciated. We're extremely grateful to be part of such a passionate community. We love World of Warcraft, and we're very proud of this expansion, so stumbling out of the gates like this was very disappointing for all of us."
While Blizzard is no doubt embarrassed about the launch problems, they have to feel vindicated by the strong sales of the expansion. As the subscriber numbers dwindled over the past few years, they've been told over and over that they need to go free-to-play. Blizzard CEO Mike Morhaime argued last fall that making the game more accessible, rather than free, was their priority to keep the game going.
"I think it's really up to us to continue looking at ways to keep the gameplay feeling fresh and new. Adding new things to the game. Making the game more accessible for not only new players, but also players that played WoW at one point in time, and want to come back. I think maybe an unintended consequence of adding all of this content is that when you layer in complexity and add new things, the people who aren't keeping up with all of that feel like they're getting further and further behind."
Players who purchased a copy of Warlords of Draenor received a free boost to level 90 for one character. This ensured that they would be able to dive into the level 90-100 content of the new expansion right away. It seems that boost may have swayed a lot of former players to give the expansion a go.
Blizzard has discussed the possibility of annual expansion packs in the past. I wonder whether the success of Warlords of Draenor will be enough to sway them toward that strategy. The spike in subscribers proves that there's still interest in WoW out there. The challenges lies in maintaining players' attention by releasing new content at a steady clip. Blizzard may be wondering whether they can prevent the large drops in subs by simply shortening the lull that occurs at the end of each expansion.
Your Daily Blend of Entertainment News
Staff Writer at CinemaBlend.
Your Daily Blend of Entertainment News
Thank you for signing up to CinemaBlend. You will receive a verification email shortly.
There was a problem. Please refresh the page and try again.