World Of Warplanes Beta Gets New Flight Mode, Enhanced Graphics With Latest Update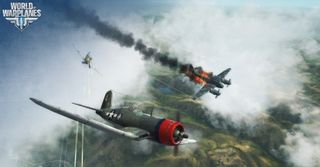 World of Warplanes, the free-to-play aerial combat MMO from Wargaming, is still in closed beta but, as the developer draws closer to opening the doors to more pilots, more content is constantly being plugged in. Today's new update, for instance, adds a completely overhauled flight model, as well as improved mouse controls and additional tweaks.
World of Warplanes comes from the same folks behind World of Tanks, the hugely popular strategic MMO that sees massive teams of tanks duking it out on the open battlefield. World of Warplanes looks to recapture that experience in the air, giving players the chance to get behind the yoke of history's most famous birds in order to take out the enemy in massive dogfights and across various missions.
Wargaming announced today that the most recent update provides new ways to play, making controlling the game's planes easier for those who would prefer a more action-oriented experience.
"The new flight model adds more thrills to aerial combat and a more dynamic feel to the gameplay," reads a statement from Wargaming. "This change also allows players to focus less on their efficiency in piloting and more on their mastery of technical skills."
The object of these new flight options is to allow players to more quickly grasp the basics of the game in order to get to the action lickety-split. "It took us six months to make sure every tidbit of the flight model was just right, and we are pleased with the results," said Producer Anton Sitnikau. "Now that we've maximized the comfort and ergonomics of aircraft controls, tactical thinking and skills have really come to the forefront."
Also included in today's updates are "heavily reworked graphics," making World of Warplanes look better than ever. For additional details and to keep up on when additional beta opportunities become available, keep your browser tuned to the official website.
Staff Writer for CinemaBlend.
Your Daily Blend of Entertainment News
Thank you for signing up to CinemaBlend. You will receive a verification email shortly.
There was a problem. Please refresh the page and try again.