Xbox One Call Of Duty: Ghosts Reviews See Fair Criticisms And Lots Of Apologists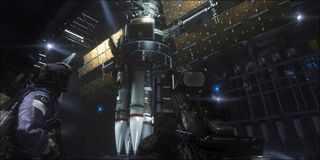 If you were looking to pick up Call of Duty: Ghosts alongside a new generation console from Microsoft or Sony, you would be in for a tough time. It's no easy task thanks to a muddied response from a divisive gaming media circuit that seems to be trying to figure out if they're apologists or critics.
Microsoft has finally lifted the embargo on Call of Duty: Ghosts reviews for the Xbox One and they've come piling in with tepid trepidity, tiptoeing around some issues while openly praising others.
CharlieIntel gathered reviews from IGN and Polygon who both dismiss the differences between the Xbox One and PS4 versions of Call of Duty: Ghosts, both noting that there's either "little or no variation in texture or effects" or that there was "difficulty in telling them apart.
The one thing that stood out to Polygon, however, was that the framerate was more consistent on the Xbox One, noting...
The Polygon review ties-in with what Destructoid writer Tim Sheehy had mentioned in his 10 minute preview session. This sentiment is also shared by Gamerevolution – who spends a great deal of the article seemingly trying to downplay the pixel-porn scrutiny that led to a huge fallout in the gaming community – writing...
Despite admitting to not being a techie, the honesty of the writer, in a way, falls to the average gamer's perception of the new titles. Would the average gamer be able to tell? That's not really the point, though. The crux of the debate centered around whether or not gamers were getting shortchanged with a more expensive console outputting software at a lower quality.
As far as framerates go, it does appear that the Xbox One at least has managed to maintain a stable 60 frames per second throughout, based on the reviews so far.
But what about the rest of the game? The image quality? Resolution? Texture detail? Hardcoregamer feels that the Xbox One beats out the competition, noting...
Doesn't spend as much time with one version of the game but declares another version as the winner. Meme-worthy right there.
But what about the resolution? What about the textures? Are the colors washed out? What about the crushed black? What about the anisotropic filtering? What about per-pixel lighting? What about the details that define each version of the game?
Sadly, the only one who had the balls to call a spade a spade and honestly re-confirm a lot of what we expected was Videogamer. No apologies, no corporate butt licking, no brand brown-nosing... just a lot of hard-nosed facts.
Instead of glossing axioms for faux bias confirmation, Videogamer just lays it out there and I highly respect them for it. Check this section of their article out comparing different versions of the game...
The devil's truth always looks better without the details.
Sadly, I expect few reviewers to honestly lay out the differences the way they should be laid bare.
Does the PS4 version suffer periodic frame stutter? Yes? Good, mention it.
Does the Xbox One version suffer lower texture grades and resolution? Yes? Good, mention it.
Is the PC version a steaming pile of crap? Yes? Good, mention it.
We're not reading reviews to find out if the game fits a fanboy agenda. Gamers are about to spend big bucks over the holiday season in the illustrious digital entertainment industry, and the one thing we don't need are reviewers pandering to an agenda, downplaying differences or avoiding to mention key details that may help someone make an informed purchase.
My advice would be to check out multiple reviews from various sources. Find out as much as you can before you commit to a purchase.
You can check out Gaming Blend's own review of Call of Duty: Ghosts right here.
Staff Writer at CinemaBlend.
Your Daily Blend of Entertainment News
Thank you for signing up to CinemaBlend. You will receive a verification email shortly.
There was a problem. Please refresh the page and try again.